With social distancing becoming a real thing, video communication is the only option left for us to stay in touch with our friends, family, and relatives. This is not only the sole purpose of video communication, but video conferencing and video meetings have also been one of the biggest reasons why you need to give webcam or camera software a thought.
Thanks to the various webcam programs and the improvements in them, that has made our quarantine easy. Whether you are looking for a webcam tool to communicate with your friends or just it is the office thing, we have you covered.
We have prepared a list of top 5 Best Webcam Viewer/ Camera Software that you can download on your Windows 7, 8 or 10. So let's get started!
Top 5 Best Webcam Viewer Software for Windows 7, 8, 10, 11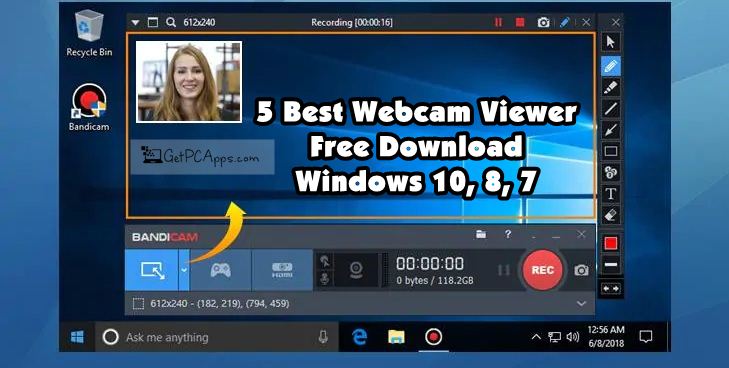 These webcam programs come with the number of features that make video communication through windows fun and exciting.
Split Cam is one of the best webcam services available for Windows. Unlike conventional camera software available in the market, this program offers you to use its services with multiple clients.
Through this software, you can:
Chat with your friends
Use special effects for fun purposes
Video split into several programs
Stream to popular services including TinyChat, Livestream, etc.
Record your video
Use realistic 3D masks for some excitement
In addition to that, you can also zoom in your video using a keyboard or a mouse. Great isn't it?
Webcam Viewer is next up on our list because of the fact that this program is simply lit. This application is a simple click and run type of thing that lets you communicate with the world in a snap of fingers.
With this program, you can get:
Simple user interface
Capture screen feature
Dropdown menu for listing available webcams
Video streaming
Ability to capture Pictures
This program is completely free and really easy to use.
Youcam 7 is another popular choice of webcam users from all across the globe. This is not only because it offers tremendous video communication, but because it offers a ton of other features as well that will make you fall in love.
It offers:
Beauty effects for video
Cool effects for pictures
Built-in picture editor
Enhanced desktop recording
3D Augmented Reality objects
HDR and Panorama mode for photos
This cam software is premium but it comes with a 30-day trial which you can try to get benefited from the above-mentioned features.
Next on the list is ManyCam, which is one of the most popular webcam software out there. It is a feature-rich and close to professional webcam service allowing you to communicate effortlessly.
The software comes packed with some really cool features including:
YouTube Integration
Gaming Streaming
Desktop Screencasting
Green Screen
Picture in Picture
IP Camera
3D Masks and effects
In addition to that, this program also comes with the mobile app feature that lets you use your phone instead of a webcam, even if you don't have one.
This is another freemium application on the list. However, that doesn't mean it doesn't offer potent features. Yawcam is quite a competent application that has got multiple cool features that you will love.
These features include:
Image snapshots
Video recording
Motion detection
Password protection
Time-lapse recording
Text and image overlays
Built-in webserver
In a nutshell, Yawcam is quite a great webcam service that you can use without paying a single penny.