Although Windows 10 comes with a built-in photo viewer that can open a photo on a double click, it can be lousy and annoying at times. Fortunately, there are a number of alternatives for the very same task that can do the trick. These third-party photo viewing software not only offers photo viewing features but also comes with a handful of other interesting features that goes beyond photo viewing.
So looking for the best Photo Viewer Software to download for Windows 10? We have you covered. This post will cover the top 5 software that can help use photos on the go.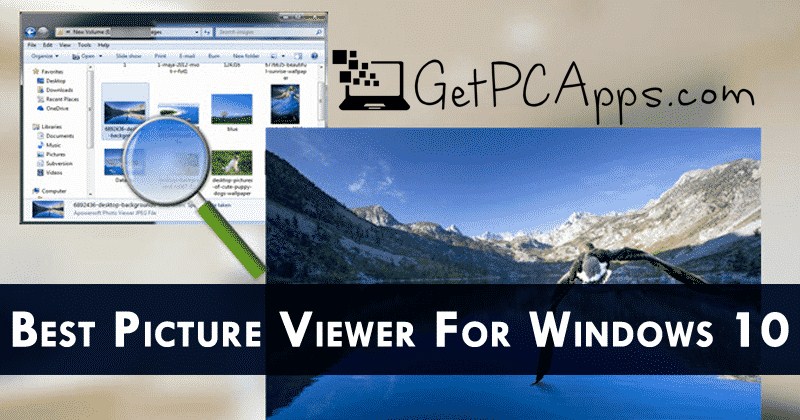 Top 5 Windows 10 Best Photo Viewer Software Download
Whether you want to view photos or do more than simply viewing it, these top 5 photo viewing software are for you. Get these photo viewing software on Windows 10 for free.
1. Nomacs Photo Viewer for Windows 10 PC
If you want to do more than just viewing photos, Nomacs is the best thing you need. The software is a free, open-source image viewer that supports multiple formats. This photo viewing software features:
Semi-transparent widgets
Multiple format support
Image manipulation features
Pseudocolor function
Moreover, the app also comes with a clean user interface with a ton of many other features to discover.
Download Link: https://nomacs.org/
2. QuickLook Photo Viewer for Windows 10 PC
QuickLook is another photo viewer software for the Windows 10 that works perfectly, not only to view photos but also other multimedia files like videos, text files, etc. The software offers:
Quick preview of file contents
Smooth loading interface
Quick response time
Different hotkeys
Furthermore, there is multi-language support, so you can use it as well for enjoying photos.
Download Link: https://github.com/QL-Win/QuickLook/releases
3. XnView Photo Viewer for Windows 10 PC
This photo viewer comes with a multitude of features, in addition to being just a photo viewer. This software features:
Batch editing
Bunch of edit effects
Large file format base
500 image file format
Image converter
Download Link: https://www.xnview.com/en/
4. Faststone Photo Viewer for Windows 10 PC
This one is another free image viewing software that comes with a bunch of unique features. In addition to providing wide format support for image formats, this viewer offers:
Multi-monitor configuration
Batch conversion
Batch renaming
Email sharing feature
Slideshow feature with numerous attractive transition effects
Download Link: https://www.faststone.org/
5. HoneyView Photo Viewer for Windows 10 PC
If you are looking just for a basic photo viewer, HoneyView is the thing that you need. The software is almost similar to that of the Windows Photos Viewer, in terms of features and functionality. The features of this software include:
Basic photo adjustment options like resizing, rotating, etc.
Various image format support
Easy usability
A great alternative to Windows Photo Viewer
Image bookmarking feature
Download Link: https://en.bandisoft.com/honeyview/
All these image viewer software are fast, free and comes with multiple features that are beyond photo viewing. So get this software downloaded and enjoy photo viewing on your desktop on the go.