Video-on-demand and video-sharing services offer convenience until you are online. But if you need access to videos offline, your best bet is to download and store them locally.
Video downloaders make downloading videos quick and convenient. And on Google Chrome, you can do this using extension.
Chrome's video downloader extensions let you download videos from a host of video (and social media) websites and save them on your computer for offline access.
Best Chrome Video & Audio Download Extensions 2023
With the advent of streaming and on-demand video services, consuming content (music and video) has become more convenient now than ever before. Aside from the widespread rollout of such services, another factor that has contributed to the way we consume videos today is the democratization of the internet — making content available on-demand.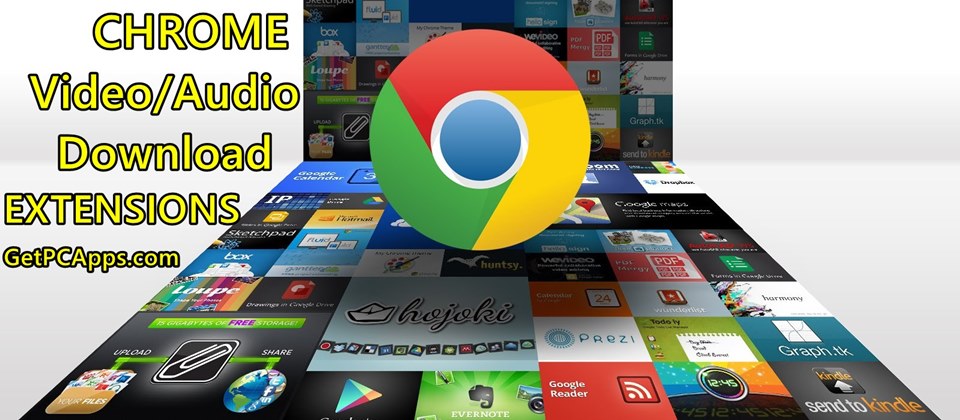 However, having said that, there are times when you would still want to have offline access to a video. In such times, your best bet is to download the video and store it on your device. While some online platforms allow you to download videos these days, unfortunately, those videos are only available on the app/service, and in some cases, with premium subscriptions.
So, if you need offline access to videos, you have to resort to using third-party video downloader services. You may find a host of such video downloader apps and services on the internet — based on your device's platform. If you are a Google Chrome user, you can make the download process quick and seamless, right within the browser, using some of the best Chrome video downloaders we have put together in this list.
Best Video Downloaders for Chrome
When it comes to downloading videos on browsers, as we mentioned, there are a lot of different apps (or websites) and browser extensions that you can use. But for the purpose of this article, we will stick to Google Chrome extensions, which are both quick and easy-to-use.
Before you get too excited and start planning on the videos you want to download, you should know that most apps or browser extensions you get from the Google Chrome web store directly cannot download YouTube videos. This is because Google has put in place measures to prevent you from downloading videos from its sites. And so, any extensions that appear on their store must conform to their terms and conditions.
However, if you still want to download videos from YouTube, there are very few extensions that let you do it — by circumventing the restrictions. And, we have one such extension on the list. Though, we are not sure how long these extensions will work.
1. Video Downloader professional (by startpage24)
Video Downloader professional is one of the popular video downloaders for Chrome. It is available as an extension and can be downloaded for free. You can use Video Downloader professional to download videos from various websites and save them on your computer. One of the best things about this extension is that it even gives you the option to select the download resolution for your videos — if the website supports it.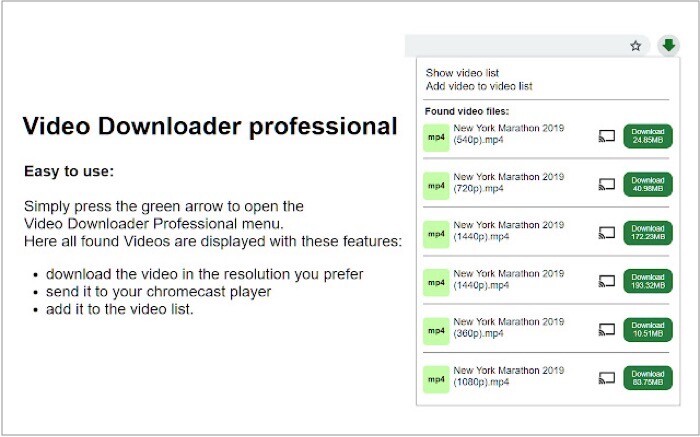 All you got to do to download a video using Video Downloader professional is to play the video and click on the extension. The extension will then automatically capture the video and present you with a few different download options, which you can click on to begin downloading the video. Furthermore, you can also save your downloaded videos to your video list or can play them via Google Chromecast.
2. The Flash Video Downloader
The Flash Video Downloader is a lightweight video downloader for Chrome. It can help you download videos from a host of video websites. The extension is available for free and pretty easy-to-use. Once it is installed, you get a few different settings that you can change to your preference. That way, you do not have to do it over-and-over every time you are about to download a file.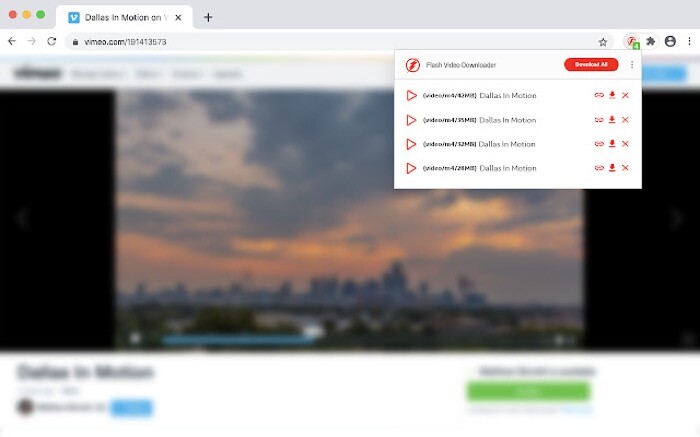 When it comes to downloading videos using the Flash Video Downloader, you just need to open the website you want to download the video from and click on the extension icon. It will then retrieve the video and present you with the option to play it, copy its URL, or download it to your system. By default, The Flash Video Downloader selects the highest resolution available for a video, so you do not get the option to choose resolution yourself.
3. Video Downloader professional (by videoloadpro)
Video Downloader professional, not to be confused with the other Video Downloader professional Chrome extension, which comes from startpage24. This one is from videoloadpro, and it provides a few additional features compared to its counterpart. At a high level, this extension works in pretty much the same way as any other video downloader, except for a few changes.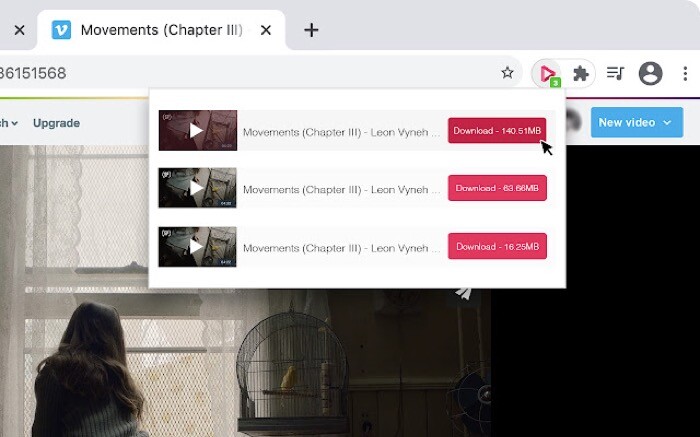 A few of such changes that Video Downloader professional brings along include support for a diverse set of video formats like MP4, MOV, FLV, AVI, ASF, MPG, and WEBM, along with the ability to download multiple videos simultaneously with this extension. As for download options, Video Downloader professional lets you download videos from websites in SD and HD resolutions.
4. Addoncrop
Addoncrop is a video downloader website that has a browser extension for different internet browsers like Chrome, Edge, Opera, and Vivaldi. It is specifically meant for use with YouTube. So if you are looking for a service that lets you download YouTube videos, Addoncrop is what you need. To get started with Addoncrop, you need to, first, download the Crosspilot extension from the Chrome webstore. After which, you need to go to Addoncrop and click on Install via Crosspilot. Once you do that, the download should begin. During installation, you will be required to grant permissions to the extension so it can download videos for you.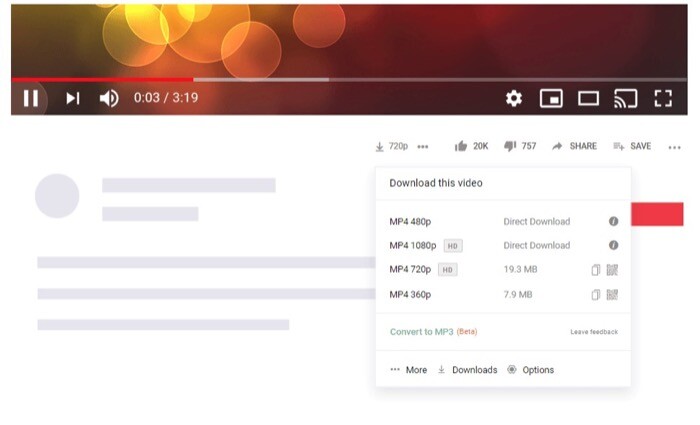 To download videos, open the video (on YouTube) you want to download. If the extension is active, you will get a download button right below the video. Click on it to select the resolution and download the video on your machine. You can also set your default preferences for Addoncrop by going into its settings like a few other extensions.
5. Video Downloader Plus
Video Downloader Plus is another basic yet quick video downloader extension for Chrome. It has both free and paid plans, and you can use it to download videos in different formats such as MP4, MOV, FLV, WEBM, 3GP, etc. Moreover, the extension also provides you the ability to download videos in 2K and 4K resolution if you upgrade to one of their paid plans.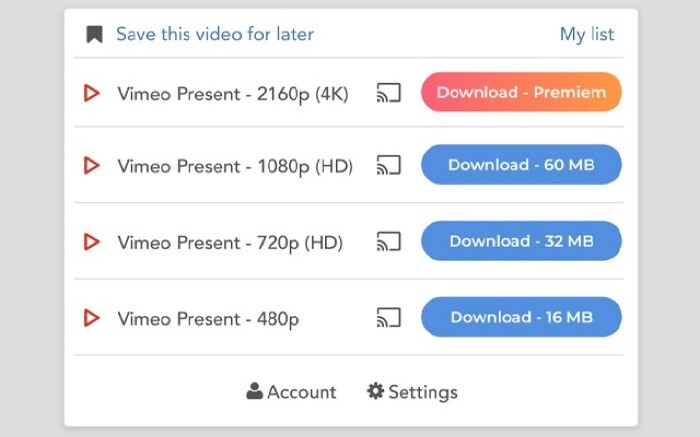 To use Video Downloader Plus, just open the video you want to download, and the extension will automatically get the download links — in different resolutions — for you. You can then click on the download button next to your preferred resolution to download the video. Alternatively, you can also save the video for later or cast it over Chromecast with the paid subscription. The paid subscription of Video Downloader Plus unlocks video downloading capabilities on a few more video platforms.
6. Video DownloaderHelper
Video DownloaderHelper is an advanced video downloader for Chrome that offers a host of features. To begin with, you get support for HLS (HTTP Live Streaming) and DASH (Dynamic Adaptive Streaming over HTTP) videos. So you can download videos in these, alongside other formats, using this extension. Video DownloaderHelper supports a variety of platforms such as Dailymotion, Vk, Twitter, Facebook, Udemy, Lynda, etc.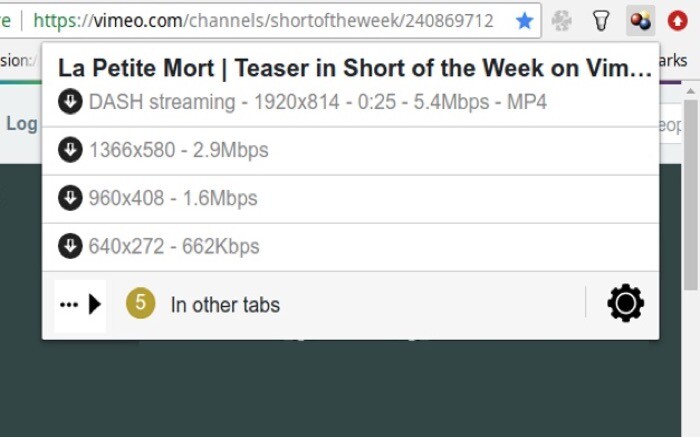 Using the extension to download is as easy as clicking through a few buttons. First, you need to open the video you want to download and then click on the Video DownloaderHelper extension. You will then get a few different options, which you can select as per your requirements. These include download, download & convert, add to the blacklist, and more. Moreover, you can also set your default action in the extension and modify your preferences from its settings such that Video DownloaderHelper knows your preferred video download and conversion settings the next time you download a video.
7. Video downloader – CoCoCut
CoCoCut is, again, a simple and easy-to-use video downloader for Chrome. In fact, not just videos, the extension also allows you to download music files and save them for offline access. CoCoCut is free to use and works with a lot of music and video platforms.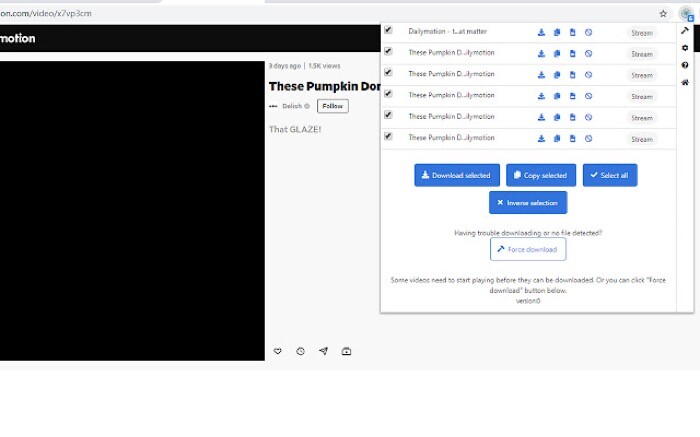 To use this extension, all you have to do is open the video or music website you wish to download content from and click on the CoCoCut extension. As soon as you do that, you will see a few different download options in different resolutions. Choose your preferred resolution from the list and click on the download button to begin downloading. Furthermore, like a few other Chrome downloader extensions, you can also set some of the preferences for CoCoCut to avoid having to choose the settings every time you are about to download an audio or video file.
Video Downloaders for Chrome
The above-mentioned are some of the best video downloaders for Chrome. Using these video downloader extensions, you can conveniently download videos from various video and social media platforms onto your computer, right from Google Chrome. So no matter what operating system you use, be it Linux, Mac, or Windows, you can download videos on Chrome with these extensions.
Word of caution: downloading videos from sites without their explicit permission is regarded as a breach of terms and conditions and is categorized as a criminal act in many countries. Additionally, distributing and selling copies of this downloaded content without consent is also forbidden, and the person doing so could/could not be penalized for the same.
So as long as you download creative commons licensed videos, copyleft videos, or videos in the public domain, you can use video downloaders without worrying about the consequences. However, if the videos you intend to download do not fit into any of these categories, you should refrain from downloading them.