Even came across the situation when you want to download something important in your drive, but you do not have enough space to store it? Well, that is where the partition management software programs come to help. These software programs are specifically designed to let the users create, shrink, expand, delete, split or merge the partitions on the hard drives.
Top 5 Best Disk Partition Manager Software Download for Windows 7 | 8 | 10 | 11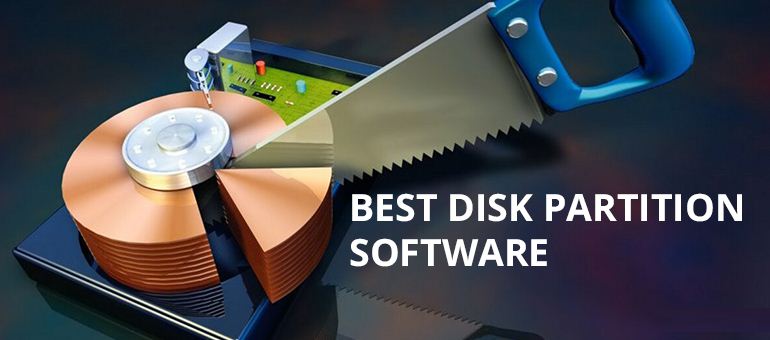 We know you are wondering that you can certainly create and manage the drives without any additional software, but the fact is that you cannot resize them or merge them, just like you can do with a software.
So, if you are counting on those partition manager software for your PC, then you have come to the right place. We have rounded the 5 best ones for your Windows 7, 8 and 10.
1: MiniTool Disk Partition Wizard Free for Windows PC
This MiniTool Partition Wizard comes with the great and functional features that you might not find in any other partition software that you even paid for. That is the reason this software stands first on the list. The software comes with the basic portioning features like splitting, resizing, merging, deleting etc. but it also capable of checking the file systems for errors, wipe partitions and move the OS to the different hard drive. Can be downloaded from here: https://www.partitionwizard.com/free-partition-manager.html
2: AOMEI Disk Partition Assistant Standard Edition for Windows PC
The standard edition of the AOMEI Partition Assistant comes with lots of amazing features that you might not find in any other partition software. Besides performing the typical partitioning function, this software is capable of copying the whole disks and partitions, convert between primary and logical partitions and wipe all the data from a partition or a drive. There are lots of more features that you can get in its paid version. Can be downloaded from here: https://www.disk-partition.com/download-home.html
3: Active@ Disk Partition Manager for Windows PC
Our list of the best partition manager software would be incomplete without Active@ Partition Manager. This software is one of the most popular partition managers among the PC users because it not only create new partitions out of the unallocated spaces but also manages existing partitions as well. Moreover, it supports all the common kinds of file systems, imaging a whole drive for backup purposes ad much more. So get this software for the best features on Windows 7, 8 and 10. Can be downloaded from here: www.pcdisk.com
4: EaseUS Disk Partition Master Manager for Windows PC
Managing the partition and creating a new one has never been that easy before. But with the EaseUs Partition Master, you can manage your partitions effortlessly. The best part that we found in this software is that it previews that what the changes you are creating will look like. You can see these changes virtually until you click the Apply Button. This feature makes partitioning and copying data easy and quick. With this software, you can also password protect, hide and upgrade the drives for the best experience ever. Can be downloaded from here: https://www.easeus.com/partition-manager/
5: Pargaon Partition Manager For Windows Computer
Last but certainly not the least, Paragon is another best partition manager that you can get. It comes in two basic versions – the premium one and the free one. Both the versions of the software runs effectively from a bootable device to USB device. It offers the simple user interface, functional features, and quick performance. It can be downloaded from here https://www.paragon-software.com/home/pm-personal/
Download All Best Windows Disk Partition Manager Software
Free-Partition-Managers-Windows_GetPCApps.com.zip
Free-Partition-Managers-Windows_GetPCApps.com.zip
These Disk Partition Manager Software work great for Windows 7, 8, and 10. Get these on your PC and let us know your experience in the comments down below.