In one of our previous articles, we have shared with you the procedure of how you can use Remote Desktop on Windows 10 Home edition.
The idea of patching their OS to add or remove features is not comfortable for many people.
Wherever possible, we recommend opting for an optimized method over a third-party substitute at Get PC Apps.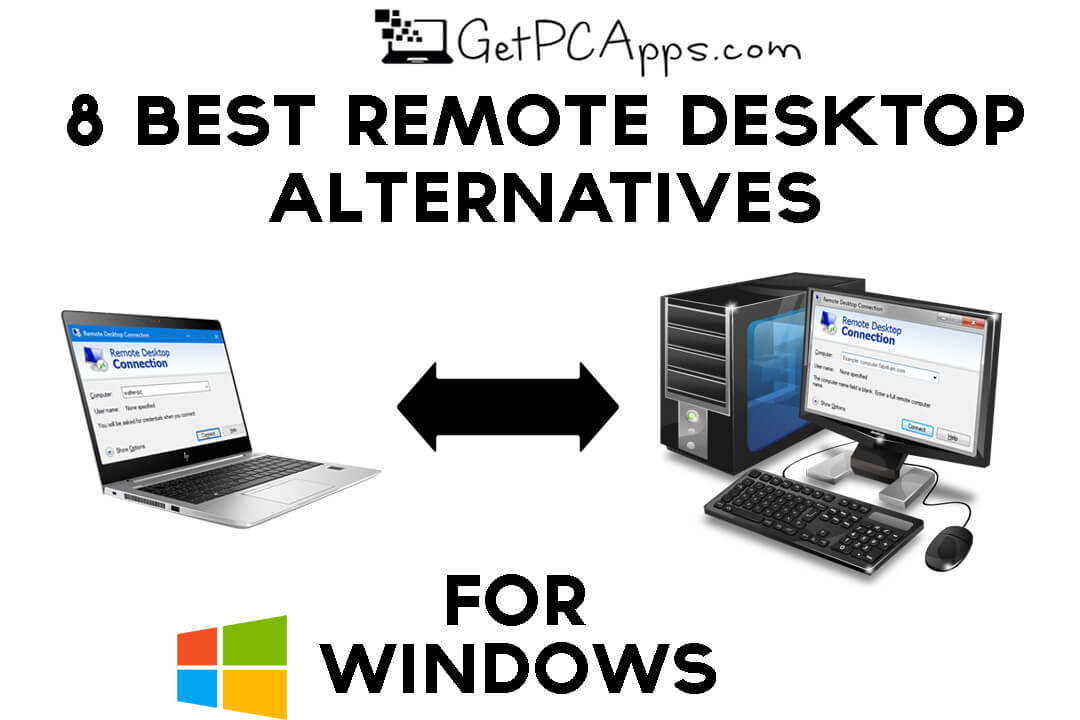 Nevertheless, For Windows 10 you can get hundreds of customizable desktop programs as an alternative of Remote Desktop.
Without any workarounds, you can use those programs to create remote connections to and from your PC. You can also get these programs as an Application of your smartphone or Tablet.
We will start this list with the very simple yet productive Remote Desktop alternative program for Windows named Anydesk.
You can also check out GetPCApps.com for more useful software and programs for windows like these below.
Anydesk
If you want to connect to a computer remotely, be it from the other end of the office or halfway around the world then this software is the best option for you.
AnyDesk ensures secure and reliable remote desktop connections for IT professionals and on the go individuals alike.
The great thing is that Anydesk is not only working with Windows but it is also compatible with smartphones, tablets, and other common operating systems.
Collaborate and communicate with ease, whether you're holding online meetings and presentations or working on the same document from the other side of the world.
Simply copy and paste or use the new transfer tab to transfer files between computers. No administrative privileges or installation needed.
Simply download the 3MB file and you're off. Require unattended access to your computer when you're on the road? No problem, you'll just need to install and set a password.
TeamViewer
The TeamViewer software for remote access and support offers fast and secure device connections for everyone.
This program has made the world a smaller place paving the path towards a truly global workspace through innovations in technology and an incredibly fast and secure global network.
TeamViewer allows you to remotely access and control the desktop of your computers and servers from anywhere, on a 3G or better internet connection.
This access is device agnostic and completely secure. Any modern smartphone can now be your window to your workplace.
Over 20 million support sessions happen daily on the TeamViewer platform. With its 256Bit AES encryption and ISO27001 certified data centers, providing support to your customers and employees has never been safer or easier.
With TeamViewer, you can now Keep your IT secure since It feels like sitting right next to them, offering the help they need, the moment they need it most.
Ultra VNC
Ultra VNC is a powerful, easy to use and free – remote pc access software that can display the screen of another computer via the internet or network on your own screen.
The program allows you to use your mouse and keyboard to control the other PC remotely. It means that you can work on a remote computer, as if you were sitting in front of it, right from your current location.
VNC, the Remote Frame Buffer protocol (RFB) allows a desktop to be viewed and controlled remotely over the Internet.
However, you need to run a VNC server on the computer sharing the desktop as well as VNC client on the computer in order to access the shared desktop.
All VNCs Start from the one piece of source and should follow the RFB protocol for their communications.
This common start point means that most of the VNC flavors available today are secure.
Chrome Remote Desktop
You can use a computer or mobile device to access files and applications on another computer over the Internet with Chrome Remote Desktop.
Chrome Remote Desktop is available on the web on your computer. Although you will need to download the Chrome Remote Desktop App if you want to use your mobile device for remote access.
Basically Chrome Remote Desktop allows users to remotely access another computer through Chrome browser or a Chromebook.
Computers can be made available on a short-term basis for scenarios such as ad hoc remote support. Or on a more long-term basis for remote access to your applications and files.
All connections are fully secured. Chrome Remote Desktop is fully cross-platform. Provide remote assistance to Windows, Mac, and Linux users, or access your Windows and Mac desktops at any time.
All from the Chrome browser on virtually any device, including Chromebooks.
TigerVNC
TigerVNC is a high-performance and platform-neutral implementation of VNC known as Virtual Network Computing.
It is a client/server application that allows users to launch and interact with graphical applications on remote machines like a computer.
TigerVNC provides the levels of performance necessary to run 3D and video applications, and it attempts to maintain a common look and feel and re-use components, where possible, across the various platforms that it supports.
TigerVNC also provides extensions for advanced authentication methods and TLS encryption. The latest release of TigerVNC can be downloaded from here.
Besides the source code, it also provides self-contained binaries for 64-bit and 32-bit Linux, installers for 64-bit and 32-bit Windows.
And a universal binary for Intel-based Macs will also be provided as well as the packages for various distributions. TigerVNC was originally based on the VNC 4 branch of TightVNC that was never released.
VNC Connect
VNC Connect is a screen sharing software that lets you connect to a remote computer anywhere in the world, watch its screen in real-time, and take control as though sitting in front of it.
VNC Connect is for everyone in your organization. Remote access enables colleagues, suppliers, and customers to communicate more effectively, breaking down barriers and driving growth.
With this Windows software, you can access your own computers remotely and be productive wherever you are.
Now share, collaborate, train, and support each other more efficiently VNC Connect. Support distributed devices and teams, improving first call resolution, reducing callouts, and increasing uptime.
It enables you to provide an outstanding helpdesk service on demand, enhancing customer satisfaction.
Enable your entire business ecosystem to access resources and information securely, easily, and conveniently with VNC Connect.
NoMachine
Go from your desktop to any connected computer with NoMachine software for Windows at the speed of light.
Since it is the fastest and highest quality remote desktop you have ever tried developed by the NX technology.
you can get to any computer in the world in just a few clicks. Take what's important where you go and share with who you want.
NoMachine is your own personal server, private and secure. And the best thing is that NoMachine is free to use.
You will not feel limited since it lets you enjoy live audio and video from your remote PC. You can even render your animated models.
Whether you are an artist or an engineer, your favorite software is always with you. Your desktop is where you work.
Open your desktop for others to join in. Let your friends collaborate on the documents you are working on.
Microsoft Remote Desktop
Use the
Microsoft Remote Desktop
Application to connect to a remote PC or virtual apps and desktops made available by your admin. The app helps you be productive no matter where you are.
Using Microsoft Remote Desktop is pretty easy you just need to configure your PC for remote access first. Simply
download
the Remote Desktop assistant to your PC and let it do the work for you.
This App lets you access remote PCs running Windows Professional or Enterprise and Windows Server. Below are some other features you can get with Microsoft Remote Desktop:
Access remote resources published by your IT admin
Connect remotely through a Remote Desktop Gateway
Rich multi-touch experience supporting Windows gestures
Secure connection to your data and applications
Simple management of your connections from the connection center
High-quality video and audio streaming
Connect from your phone or using Continuum for Phone
Conclusion
Here you have the 8 Best alternatives of Remote Desktop for Windows 10. All of the Apps mentioned above are extremely productive and secure, you just need to download and install them.
Those of you who do not want to get in the technicalities and want an app which that is easy to use and functional then you should go for these alternatives of Remote Desktop.
This list is completely random, you can choose the program from above which best suits you and fulfill your work requirements. You can also visit GetPCApps.com to find out even more useful software like these for your Windows PC.