AnyDesk Remote Desktop Offline Installer Overview
Remote access software is very common these days. This software helps you to access one computer from another remotely. You can take over the control of their mouse and keyboard just like your own. AnyDesk is one of the cool remote desktop software that is also an alternative to Teamviewer. This feature helps a lot in today's modern software world. It can be extremely useful for employee monitoring and a lot of other situations too. You may need to help your father resolve any issue who lives miles away and you cant go to meet him. You just need any remote access software installed on both computers. You can remotely administer your office in Chicago, even if you are in Sydney. The incredible remote access software we are going to explain in this post is AnyDesk. The name depicts the working.
Anydesk is an outstanding software that is capable enough to ensure the secure and reliable remote desktop connection for IT professionals and on-the-go individuals alike.
Working Of AnyDesk Offline Installer Setup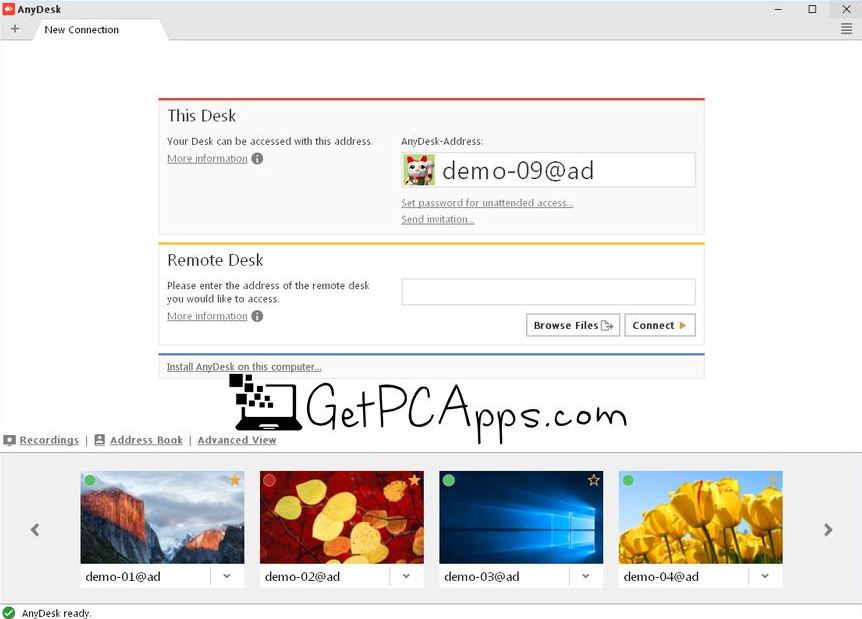 Let us explain the working of Anydesk in detail. The user who is accessing the other computer will be referred to as host and the one whose computer is being accessed is called the client. We will explain from both perspectives one by one.
HOST SIDE
First, you have to launch AnyDesk on the PC you want to connect to and record the Anydesk-Address, or custom alias after one is set up.
When the client will connect, you will be asked to allow or disallow the connection. You will also be given the option of controlling permissions, like to allow sound clipboard use and the ability to block the keyboard or mouse of the host.
CLIENT SIDE
Mange to run Anydesk on another computer, and then enter the host's Anydesk address or alias in remote desk section of the screen.
Incase unattended access is set up in settings, the client does not need to wait for the host to accept the connection
Anydesk Offline Installer Setup Features
1. MULTI-PLATFORM SUPPORT Anydesk is compatible with multiple platforms and operating systems. Windows, Linux, Free BSD, Mac OS, iOS and Android. Plus there is no extra charge for mobile apps.
2. BUILT-IN FILE TRANSFER It is excessively simple to transfer files. You just need to copy and paste or use the transfer tab, and files will be transferred.
3. EASY TO CUSTOMIZE Make it yours. Yes, it is not a big deal. You can customize Anydesk's user interface in order to give customers a remote desktop experience, which is totally consistent with your brand.
4. LIGHT-WEIGHT There is no messing of administrative privileges and installation. All you have to do is to download 1 MB file. Set a password and have access from other devices even when you are on road.
5. OWN NETWORK It is possible to set up your own enterprise if you want full control of your data.
6. RECORD THE SESSIONS Both users can record the sessions. Both means the one whose computer is accessed and the one who is accessing another's computer. Let's say that the IT professional and the user whose system is accessed. It adds to the level of security and reliability. It is also useful and makes sense when it comes to training purposes.
7. ONLINE COLLABORATION Anydesk facilitates you in collaborating and communicating with ease. No matter it is about holding online meetings and presentations or working on the same project from another side of the world.
8. SECURITY From day one, your security has been the primary purpose of anydesk developers. They make use of banking standard TLS 1.2 technology to make it sure that your computer is not accessed by unauthorized users. To verify each and every connection from RSA 2048 encryption is used. Their servers use Erlang telecommunication technology for maximum reliability.
9. UNPARALLELED PERFORMANCE All of us know that low latency, fast data transmissions, frame rates of 60 fps are critical when working on a remote desktop. Innovative DeskRT codec of Anydesk ensures low lag, even at high screen resolutions or bandwidth of just 100 KB per second.
10. SCREENSHOTS Anydesk can take the screenshots of a client computer.
AnyDesk Offline Installer Technical Setup Details
SOFTWARE FULL NAME: AnyDesk Software for Windows PC
SETUP FILE NAME: AnyDesk.exe
FULL SETUP SIZE: 2 MB
SETUP TYPE: Offline Installer/ Full Standalone Setup
COMPATIBILITY ARCHITECTURE: 32 Bit (x86) / 64 Bit (x64)
DEVELOPERS: AnyDesk Inc.
System Requirements For Anydesk Offline Installer Setup for Windows PC
OPERATING SYSTEM: WINDOWS 7 | 8 | 10 | XP | VISTA
MEMORY (RAM): 1.5 GB RAM Needed
HARD DISK SPACE: 250 MB Hard Disk Space Needed
PROCESSOR: Intel Core 2 Duo 2.5 GHz or faster
Download Anydesk 5.4.2 Offline Installer Setup For Windows 7 | 8 | 10 | 11

Click on links given below to start downloading Anydesk Offline Installer Setup. This is a full offline installer and standalone setup for AnyDesk.
This Anydesk offline installer setup is compatible with both 32 bit and 64 bit Windows versions and will work with Windows XP / Vista / 7 / 8 / 8.1 / 10.
Download AnyDesk 5.5 for Android
Download AnyDesk for Apple iOS iPhone iPad