KeePass Password Manager Offline Installer Overview
Do you forget your passwords? If you say yes, probably 90% people would agree with you. It is a very common problem. Today, everyone has to handle more than one accounts like different social media platforms or pins of your credit cards etc. It is unsafe to have only one password for every platform, because if somehow that password is leaked out, you are more than dead.
KeePass Offline Installer Setup Features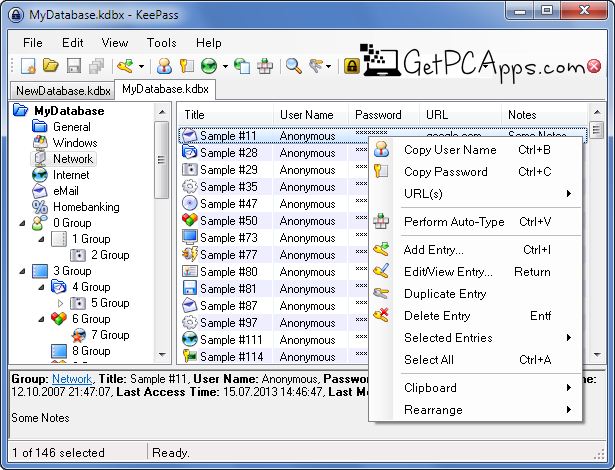 But keeping different passwords yields in memory problems. We cant remember different passwords. So there must be some mechanism for it. In this post, we will talk about an awesome application for windows which lets you help manage your Passwords. The name is KeePass Offline Installer.
KeePass is a an excellent open source password manager. You will not realize how desperately you need it, until you start using it. It helps you to manage your passwords in a very secure way.
1. LIGHT WEIGHT KeePass is a light-weight open source software.
2. USER-FRIENDLY KeePass is easy to use and helps you to manage your passwords.
3. SUPPORT It supports all Windows, Linux and Mac OS X based systems.
4. PORTS KeePass has ports for Android, iPhone/iPad and other mobile devices.
5.MECHANISM We have too many passwords to manage, for protecting our valuable data. Lets explain the mechanism of KeePass and understand how it makes managing passwords so easy.
KeePass records all of your passwords in a highly encrypted database. This database is locked via one master key. You can also say it Master file. So you only have to remember one single master password. Or you have to select the key file to unlock the entire database.
6. ENCRYPTION TECHNIQUES Databases are encrypted using best and the most secure encrypting algorithms currently known. They provide very strong security. Some of the example are AES encryption, SHA-256 hash, protection against dictionary and guessing attacks, in-memory protection.
7. INSTALLATION NOT REQUIRED KeePass is totally portable which means you do not have to install it.
8. EFFICIENCY KeePass comes with Efficient and flexible organization. For example, entry groups, tags, time fields, file attachments.
9. DATA TRANSFER METHODS KeePass works on numerous data transfer methods. Some examples are clipboard, drag and drop, auto-type, plugins can provide integration with other applications.
10. GENERATING PASSWORD It has immensely powerful password generator. This password generation is based on character sets and patterns with thousands of different options and sequences.
11. PLUGIN KeePass comes with awesome and extensible plugin architecture.
12. LANGUAGES KeePass is capable enough to support more than 40 languages.
13. FEATURES Though KeePass comes with easy interface, but it also has a lot of features. Sometimes this feature-filled thing can confuse users. Anyways, there is still nothing to worry about. Because their help center is always there to assist you.
14. A LITTLE WAIT Sometimes, KeePass takes a little time to warm up. But keeping all the pros in mind this one point is easily negligible.
15. PORTABLE KeePass is portable. You can download it for Windows and port it on a USB stick for most other operating systems.
16. FUNCTIONS KeePass supports password groups for sorting passwords. You can drag and drop passwords into most windows. You can use a hot key to type your login information into windows automatically. It is also possible to quick copy user names and passwords to the clipboard with a double-click on a field in the password list. KeePass can import data from a variety of formats for example CSV. While the password list can be exported to formats such as TXT, HTML, XML, and CSV.
KeePass Password Manager Offline Installer Technical Setup Details
SOFTWARE FULL NAME: KeePass Password Manager Program for Windows PC
SETUP FILE NAME: KeePass-2.39.1-Setup.exe
FULL SETUP SIZE: 1.85MB
SETUP TYPE: Offline Installer/ Full Standalone Setup
COMPATIBILITY ARCHITECTURE: 32 Bit (x86) / 64 Bit (x64)
DEVELOPERS: KeePass.info
System Requirements For KeePass Password Manager Offline Installer Setup
OPERATING SYSTEM: WINDOWS 7 | 8 | 10 | XP | VISTA
MEMORY (RAM): 1 GB of RAM
HARD DISK SPACE: 50 MB of Storage Space
PROCESSOR: Intel Pentium 4, Core 2 Duo 2.0 GHz or higher
Download KeePass Offline Installer Setup For Windows 7 | 8 | 10 | 11
Click on links given below to start downloading KeePass Offline Installer Setup. This is a full offline installer and standalone setup for KeePass Password Manager Software.
This KeePass offline installer setup is compatible with both 32 bit and 64 bit Windows versions and will work with Windows XP / Vista / 7 / 8 / 8.1 / 10.