Audacity Offline Installer Overview
Great audio editors always help you save time either you edit sound files monthly or weekly basis. Still many people try to avoid audio editing themselves and probably the main reason is not the complexity of software but the heavy price tag on it. In this article we will tell you about a great audio editing program who is both free and easy to use. The name of this great software is Audacity. You can download audacity offline installer from the link below.
Audacity Offline Installer Setup Features for Windows PC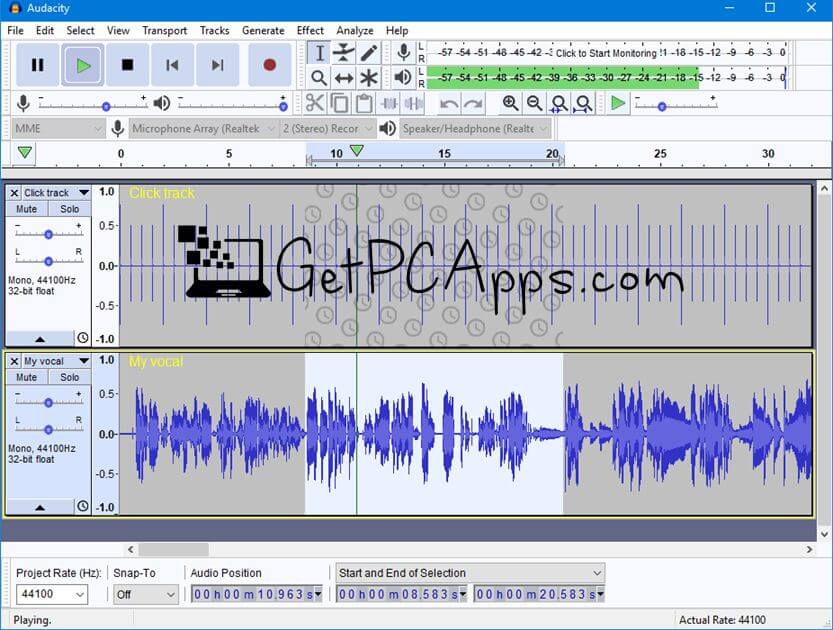 Audacity is a free, easy-to-use and multi-track audio editor and recorder for Windows, Mac OS X, GNU/Linux and other operating systems. The interface is translated into various languages. The software is developed by group of volunteers. Audacity is distributed under the GNU. It stands for General Public License.
Audacity provides all basic and advanced audio editing features.
1. MULTI-PLATFORM SUPPORT Audacity supports Windows, MAC and Linux. It is compatible with Windows 98, ME and 2000, also for XP without the latest Service Pack and hardware without SSE2. The legacy versions of Audacity are available on Audacity official website.
If you are using Mac OS 9 and Mac OS 10.0 through 10.5, legacy versions of Audacity are available on the Audacity official website.
2. RECORDING Audacity has the capability to record live audio through various source, be it a microphone or mixer, or digitize recordings from other media.
3. EXPORT/IMPORT With Audacity we can import, edit, and combine sound files. It is possible to export your recordings in many different file formats, including multiple files at once.
4. SOUND QUALITY Free availability of Audacity, doesn't imply that there is any compromise on sound quality. It supports 16-bit, 24-bit and 32-bit. Sample rates and formats are converted using very high quality resampling and dithering techniques.
5. PLUGINS There is support for LADSPA, LV2, Nyquist, VST and Audio Unit effect plug-ins. Nyquist effects can be easily modified in any text editor, or you can even plan to write your own plug-in.
6. EDITING Editing is very easy in simple commands like Cut, Copy, Paste and Delete. Audacity also allows unlimited sequential Undo (and Redo) in the session to go back any number of steps.
7. EFFECTS Audacity comes with a bundle of un-imaginable effects. You can enjoy Real-time preview of LADSPA, LV2, VST and Audio Unit (macOS) effects. Plug-in Manager is there to handle plug-in installation. It also aids in addition/removal of effects and generators from the menus.
8. ACCESSIBILITY Accessibility with Audacity is super. Tracks and selections can be fully manipulated by using the keyboard. Large range of keyboard shortcuts is fascinating enough to consider worthy.
9. ANALYSIS Audacity is not only for those who want a basic audio functions. It can also entertain you if you want advanced audio editing features. Analysis is no big deal any more. Audacity provides spectrogram view mode for visualizing and selecting frequencies. There is also Plot Spectrum window for detailed frequency analysis.
10. OPEN SOURCE Audacity is an open source software. Its source code is available for anyone to study or use.
Audacity Offline Installer Technical Setup Details
SOFTWARE FULL NAME: Audacity
SETUP FILE NAME: audacity-win-2.2.2_getpcapps.com.zip
FULL SETUP SIZE: 12 MB
SETUP TYPE: Offline Installer/ Full Standalone Setup
COMPATIBILITY ARCHITECTURE: 32 Bit (x86) / 64 Bit (x64)
DEVELOPERS: Audacity Inc.
System Requirements For Audacity Offline Installer Setup
OPERATING SYSTEM: WINDOWS 7 | 8 | 10 | XP | VISTA
MEMORY (RAM): 1.0 GB RAM Needed
HARD DISK SPACE: 200 MB Hard Disk Space Needed
PROCESSOR: Intel Core 2 Duo 2.5 GHz or faster
Download Audacity Offline Installer Setup For Windows 7 | 8 | 10 | 11
Click on links given below to start downloading Audacity Offline Installer Setup. This is a full offline installer and standalone setup for Audacity for Windows PC.
Download Audacity Offline Setup
audacity-win-2.2.2_getpcapps.com.zip
audacity-win-2.2.2_getpcapps.com.zip
This Audacity offline installer setup is compatible with both 32 bit and 64 bit Windows versions and will work with Windows XP / Vista / 7 / 8 / 8.1 / 10.