Opera Neon Web Browser Offline Installer Overview
To capture the ever evolving IT market, all companies thrive to provide best products to customers. Opera company never fails to astonish us from their amazing products. In this post, we will talk about Opera Neon browser which is often called "Opera's Browser Of Future". It is the vision of future web. You can say it re-conceptualization of traditional browsers.
Opera Neon Web Browser for Windows PC Offline Installer Setup Features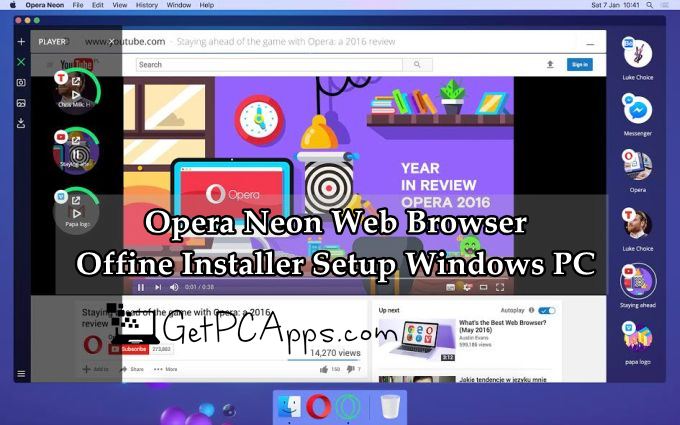 Opera Neon basically is a concept browser represented by Opera. The concept browser in a manner like concept cars. It illustrates what a modern browser should look like. You will have a unique user experience you have never dealt before.
1. BACKGROUND Opera Neon was released in January 2017. It is the first ever concept browser of the company. It is meant to foresee the future and predict what browsers would look like in coming ages. The Head of Opera Browser, Krystian Kolondra says, "Web browsers of today are basically from the last millennium, a time when the web was full of documents and pages. With the Opera Neon project, we want to show people our vision for the future of the web."
2. APPEALING TO EYES All the features of Opera browser, you were in love with are rejuvenated. Speed dial, visual tabs and omnibox are refreshed. They just float in to the screen and assist you in starting browsing session. Your computer's wallpaper is brought into browser and this way the desktop clutter is wiped.
3. VIRTUAL REALITY Thanks to highly developed physics engine of Opera Neon, the user experience is just like a virtual reality. It breaths life back into the internet. Tabs and all other objects are literally responsive enough to behave like real objects and engage your sense completely. When they are dragged, pushed or popped they move in a natural way as if they have weight. Opera Neon just opens the new horizons of browsing.
4. EASY TO USE Opera Neon relaxes your mind and take your burden to itself by making web surfing very easy and beautiful. There are video pop out, split scree mode, re-built omnibox and improved visual tabs to provide you ultimate user experience.
5. VISUAL TABS The colorful visual tabs, make use of images from web pages to help you find the pages you want. Your favorite tabs float to top just like cream.
6. GRAVITY SYSTEM The new gravity system of Opera, pulls your most frequently used tabs to prominent position on your Speed Dial.
7. SNAP-TO-GALLERY FEATURE You can crop, snap and save images of your next online purchase. No matter it is a stunning photograph or a hilarious meme from the web, Opera Neon will save it to gallery tab. If you want to return to source page later, you can find the web address labelled on the image.
8. SPLIT SCREEN MODE FEATURE You can freely browse two web pages at a time. Simply drag the visual tabs to the left or right panel. Just move your mouse pointer between pages for simultaneous browsing. No need to click back into page.
9. VIDEO POP-OUT FEATURE This amazing feature allows you to pop out videos into their own windows. This windows is 100% movable and adjustable. Relax and watch your favorite YouTube or Vimeo channels. There is a player panel too, which organizes all the tabs playing music or video into a single panel, which is very handy for quick access.
Opera Neon Browser: First Look
Opera Web Neon Browser Offline Installer Technical Setup Details
SOFTWARE FULL NAME: Opera Neon Web Browser for Windows PC
SETUP FILE NAME:OperaNeonSetup.exe
FULL SETUP SIZE: 37.51 MB
SETUP TYPE: Offline Installer/ Full Standalone Setup
COMPATIBILITY ARCHITECTURE: 32 Bit (x86) / 64 Bit (x64)
DEVELOPERS: Opera Software
System Requirements For Opera Neon Web Browser Offline Installer Setup
OPERATING SYSTEM: WINDOWS 7 | 8 | 10 | XP | VISTA
MEMORY (RAM): 2.0 GB RAM Needed
HARD DISK SPACE: 150 MB Hard Disk Space Needed
PROCESSOR: Intel Core 2 Duo 2.5 GHz or faster
Download Opera Web Neon Browser Offline Installer Setup For Windows 7 | 8 | 10 | 11
Click on links given below to start downloading Opera Neon Web Browser Offline Installer Setup. This is a full offline installer and standalone setup for Opera Neon Web Browser.
This Opera Neon Web Browser offline installer setup is compatible with both 32 bit and 64 bit Windows versions and will work with Windows XP / Vista / 7 / 8 / 8.1 / 10. You might be required to purchase the software license from their respective developer, in case of trial windows software versions.