Yes, we are living in the era of cloud. You can store videos, music and other media files via Cloud Storage or USB devices. But still there are people who prefer to have optical disks because of many reasons. Often, when we capture our special memories with friends or family and we like them to be burnt on Disc. That's the best way to preserve your memories, your favorite seasons, songs or movies. In order to burn these to DVD, you need good and high quality DVD burners. Windows Movie Maker was a very good choice in past but not now in the era of Windows 10. In this article, we will tell you about top five best DVD burner programs for Windows 10.
Top 5 Best DVD Burner Programs For Windows 7, 8, 10, 11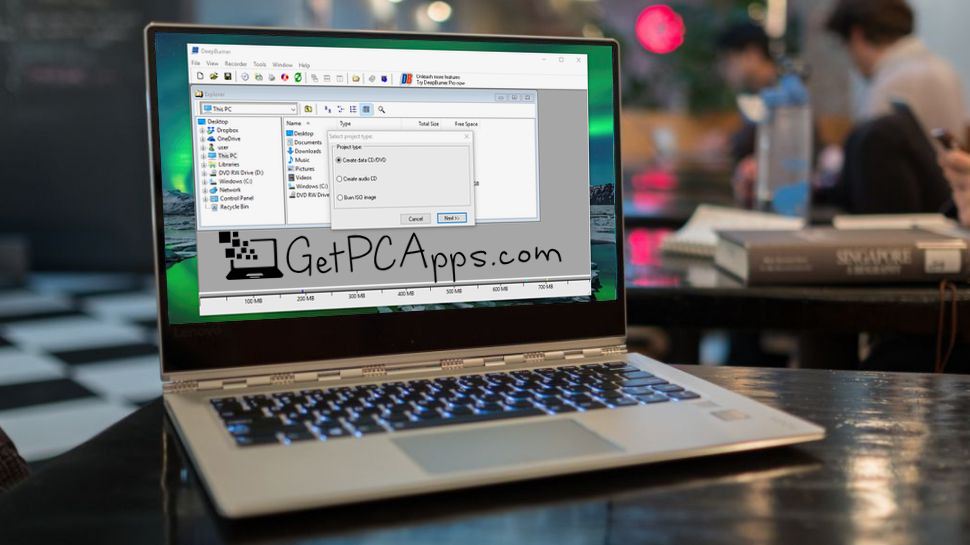 1. ImgBurn DVD Burner Software For Windows 7, 8, 10, 11 – Download
ImgBurn is a special lightweight program for Windows 10, which is specially designed for burning DVD/HD-DVDs/CD/Blue-ray images with simple steps. It is easy to use for novice, but more friendly to experienced users due to some advanced functions which may dazzle new users who have only basic burning needs. It checks the quality of the burns your drive is producing. It is capable enough to write images like ISO & files/folders to DVD disc and create ISO image from DVD disc, files/folders. It checks if the disc is completely readable and how about burning quality. All features are classified into 5 modes: Read, Build, Write, Verify and Discovery.
2. WinX DVD Author DVD Burner Tool For Windows 7, 8, 10, 11 – Download
WinX DVD Author is a free DVD burning and authoring application for Windows 10. It allows users to burn video files VOB, MP4, AVI, MKV, M2TS, WebM, FLV etc. to DVD with maintaining great audio and video quality in an efficient way. You can convert the video files to VOB and then compile them to DVD Video_TS folder for burning the whole folder to DVD. It gives you authority to author chapter menu and subtitle with international languages, such as French, German, Japanese and Chinese. Moreover, WinX DVD Author comes with YouTube downloader with which you can easily download videos from YouTube to burn later. This tool does a pretty good job.
Burn videos to DVDs with vivid images and hi-fi audios as original the source video, for free. WinX DVD Author burn videos very fast. It is 100% secure tool without any ads, spyware, malware, virus and other extras. WinX DVD Author comes with very straightforward interface. It also allows to convert videos.
3. CDBurner XP DVD Burner App For Windows 7, 8, 10, 11 – Download
CDBurnerXP is a free DVD burning program for Windows 10 used for burning CD, DVD and Blu-Ray. User can copy DVD disc, create ISO from image and burn DVD disc from video/audio/ISO images. It is also possible to erase contents from re-writable medium.
Program's interface is rich in colors as compared to many other DVD burning programs. The key features are listed on the main interface so that user can conveniently and quickly find what he wants. Honestly speaking, CDBurnerXP is easier to operate than ImgBurn but a little complicated than WinX DVD Author. If you want to create Video DVD, you need to input only Videoo_TS folders. Click Data disc to enter Data compilation which comes with a learning curve. You either need a guide or several tests to get familiar. A little problem is that CDBurnerXP requires you to install Windows .NET Framework on your PC at first because it is mostly written in Visual Basic .NET. Because of this, some people turn to select other DVD burning software.
4. DVD Styler DVD Burner Software For Windows 7, 8, 10, 11 – Download
DVD styler is a free DVD burner software. It is also cross-platform. It works perfectly fine and equally well on Windows, Mac OS X and Linux and always performs the best job according to expectations of clients. What makes DVDstyler strikingly distinctive from competitors is that its support for multiple languages, like English, Chinese, Japanese, Korean and other thirty languages.
It is excessively simple to burn kinds of video files into DVDs including various formats, and also to create individually designed DVD menus. That makes it perfect choice for beginners.In case you're a new hand of DVD burning, DVD styler is a perfect choice for you.
5. DVD Flick DVD Burner Program For Windows 7, 8, 10, 11 – Download
DVD Flick is a qualified alternative of Windows DVD Maker and probably one of the best free DVD burning software Windows 10. It provides a detailed tutorial on creating DVDs, right when you launch it. You will see the very neat interface which shows all the elements very clearly so you can easily burn DVDs. And that's not all, this free DVD Authoring tool supports you to burn DVDs for playback on DVD players and also in creating ISO files for burning. You can add subtitle and audio track into each title.