Groupy is a powerful windows organization tool which organizes multiple applications into grouped tabs on your windows desktop. Groupy enables you to drag and drop applications under a common tabbed interface where you can group them together. For your convenient access it organizes multiple applications and documents together. For optimal workflow this tool can group related tabs together. In Groupy you can also save group of applications jointly for future usage.
Groupy Browser Like Tabs Software for Windows 7, 8, 10, 11 PC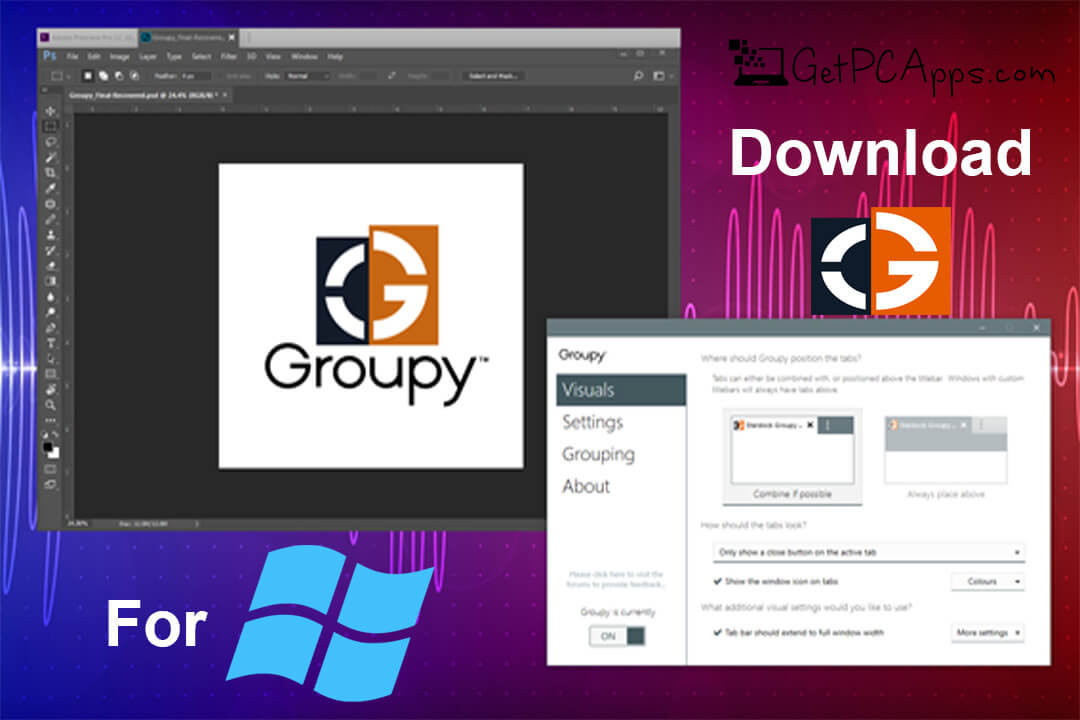 Groupy manages tabs in a quick and natural way with a Browser like interface. You can add new tabs to existing groups at any time easily and quickly. Groupy provides you the feature of Mouse-over tabs to preview the windows contents. Using this tool you can copy files between Explorer tabs. Drag files to the target tab, pause to switch, and then into the target window. Groupy automatically saves instances of the same applications together. This tool really is one of the must have tool for you Windows PC.
Easy and Quick Access to Information with Groupy for Windows PC
Web browsers existed for over a decade before the capability for multiple tabbed pages was available. But now time has changed and Groupy brings you this option to the Windows desktop by letting you keep reference data in multiple locations contained in a single group, that's only a tab click away. With this you can access any information easily in a snap without getting into the hustle.
Your Work Place Remains Organized With Groupy for Windows PC
Groupy will keep information tabbed and organized. You can drag and drop multiple applications and documents together to group them into a tabbed interface for easy access and reference. Every application and document saved by you previously will be placed in very neat and easy to find manner. With that you can find your desired saved file or application in the most convenient way possible.
Existing Saved Groups
In Groupy you can save groups of applications together for future usage. Optionally add a New Tab button to quickly launch a new instance of the currently highlighted application. Saved groups for Office files combine all your working documents in one convenient link. So whenever you visit you're saved work in future it will appear on your screen with just only a single click. You don't need to waste your time in searching it from a pile of files.
Groupy for Windows 10, 8 7 Optimizes Your Workflow
Groupy is extremely Straightforward and easy to use tool for windows PC. This tool provides you the browser-like interface to manage tabs in quick and natural ways. Tabbing between apps keeps the desktop clear of additional distractions and eliminates the need to constantly look around, for and open or close multiple programs. Which honestly became frustrating some time especially when you are busy in your work. Groupy save you from that trouble.
Download Groupy Browser Like Tabs Software for Windows 7, 8, 10, 11 PC
Groupy: Browser- Like Tabs for Windows Apps
Groupy is compatible with the both version of Windows, 32-bit and 64-bit. It runs on Windows 7, 8, 10, 11 smoothly without having any problem and issue. Groupy is no doubt an amazing tool developed by the software developing company Stardock Systems. Groupy also organizes all of your Applications and other stuff which is running in the background, in tabs and groups. Which makes Groupy an essential tool for every Windows pc user.
You can download Groupy tabs like software for Windows 7, 8, 10, 11 PC by clicking on the download button given above.