EarTrumpet is an extremely powerful app for Windows 10. It is a utility developed for helping Windows 10 users to manage the volume control more conveniently. EarTrumpet enables you to control audio and volume for every app which is running on your computer. The amazing thing is that you can control each app sound and volume level individually. Which makes EarTrumpet a must have tool for Windows 10 users. After the installation this app will appear in your system tray on the taskbar.
EarTrumpet Powerful Volume Control App for Windows 10 PC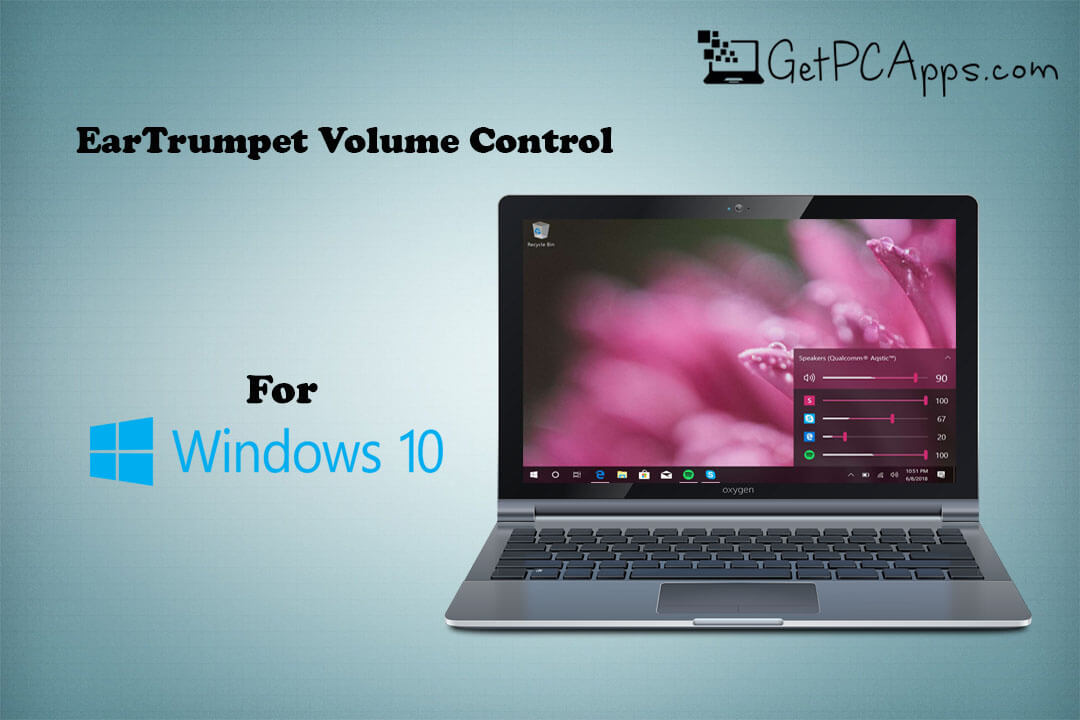 EarTrumpet works in the same manner as the standard volume controller of Windows 10. Which means that if you want to adjust the volume bar, you just have to click on the icon. EarTrumpet gives you the ability to separately change the loudness of the apps which are using sound on your computer. Like you're listening a song on YouTube. But you also want to hear the notification of an important email from your client. No worries, In EarTrumpet just slightly reduce the volume of your browser and keep the one for your email notifications at maximum.
Please note that EarTrumpet does not replace the original sound controller of windows 10. As we mentioned above it works in the same manner. The EarTrumpet Utility allows you to specify that if you want to keep track of the apps which are running on your computer. This feature became handier when you want to mute your music player abruptly with just one press of a button. It is a really simple and fast way to doing it. Especially when you are listening to a podcast or something important.
EarTrumpet for Windows 10 PC Offline Installer Setup Features
EarTrumpet volume control app is one the best apps for windows 10 PC. The interface is great. Every option and feature is neatly placed in a very simple and easy to use manor. Some of the other main features and functions of EarTrumpet volume control for windows 10 are mentioned below. Such as
EASY INSTALLATION Installing EarTrumpet volume control on your Windows PC is pretty easy. It saves you a lot of time that you can utilize in a better cause.
NO TECHNICAL KNOWLEDGE REQUIRED The best thing about EarTrumpet volume control is that it does not require any technical knowledge. Whether you are a beginner or a novice in technical terms. EarTrumpet volume control app for Windows has you covered.
BEAUTIFUL INTERFACE In addition to that, EarTrumpet volume control offers you a beautiful interface that enhances your productivity and experience at the same time.
PRE-CONFIGURED COMPONENTS Yep, you have got all the components pre-configured with EarTrumpet volume control. You do not need to configure them manually.
AWESOME SUPPORT In addition to the excellent services, EarTrumpet volume control offers awesome support. The friendly and cooperative team is very responsive and answer to your queries within a matter of seconds, so you can get started with your work on the go.
ONE CLICK INSTALLATION Installing EarTrumpet volume control app is just a matter of one click. You don't need to spend hours in installing a LAMP Stack. Thanks to EarTrumpet volume control user friendly setup.
SAY GOODBYE TO HASSLE EarTrumpet volume control product containers are hassle-free. All the applications are also available as VM, hence really easy to migrate.
AFFORDABLE PACKAGES Moreover, the EarTrumpet volume control app offers affordable and a wide range of packages that you can choose according to your needs and preferences.
LATEST UPDATES You don't need to worry about using the old version of EarTrumpet. The Developers offers automatic updates for the EarTrumpet volume control app, for Windows 10 PC. So that you can experience the newer and better EarTrumpet volume control app every time for your work.
EarTrumpet Full Offline Installer Technical Setup Details
SOFTWARE FULL NAME: EarTrumpet Volume Control Offline Installer for Windows 10 PC
SETUP FILE NAME: EarTrumpet-2.1.3.0.exe
FULL SETUP SIZE: 6.46 MB
SETUP TYPE: Offline Installer / Full Standalone Setup
COMPATIBILITY ARCHITECTURE: 32 Bit (x86) / 64 Bit (x64)
DEVELOPERS: Microsoft Inc.
System Requirements for EarTrumpet Offline Installer Setup
OPERATING SYSTEM: WINDOWS 10
MEMORY (RAM): 1 GB RAM Needed
HARD DISK SPACE: 50 MB Hard Disk Space Needed
PROCESSOR: Intel Core 2 Duo 2.5 GHz or faster
Download EarTrumpet Volume Control App Offline Installer Setup for Windows 10
Every Windows 10 user knows that the standard volume controller of window 10 is far from even our average expectations. The main drawback is that Windows 10 standard volume controller doesn't allows users to enable or disable audio alerts for their specific apps, which runs in the background. So the best solution for this problem according to us is EarTrumpet.
The easy to use and extremely advanced tool for Windows 10 PC. You can download this tool right now by clicking the download button given above.