Sumatra PDF Reader Offline Setup Overview
PDF is the most commonly used file formats in official documents. Though web browsers can also be used for opening PDF documents but usage of PDF documents is not confined to viewing them. Browsers can not be used for annotation, digital signatures and form filling etc. PDF readers allow us to do all these functions and much more than that. In today's article, one of the best PDF readers, called Sumatra PDF reader will be discussed.
Sumatra PDF reader is an open source and light weight PDF reader. Its latest version is 3.1.2. In this version, many changes have been made to enable better performance and working in Windows 10.
Sumatra PDF Reader Offline Installer Setup Features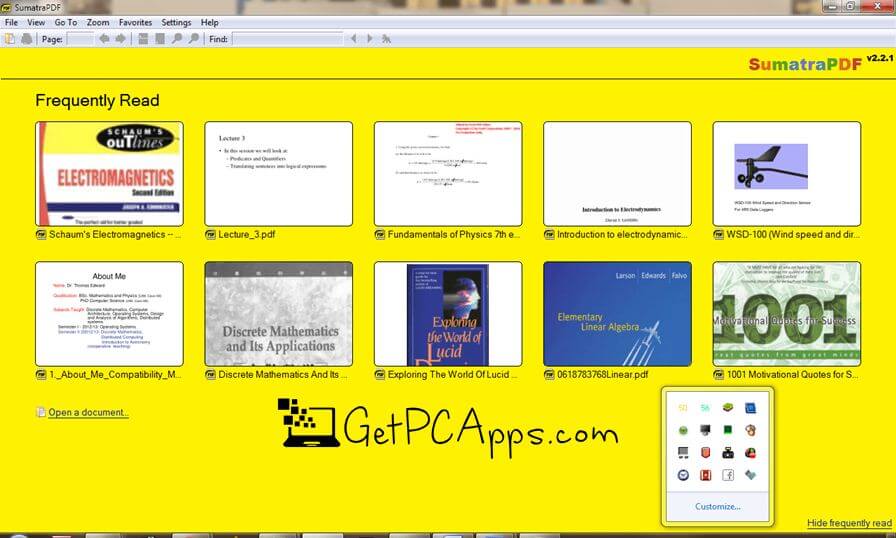 1. OPERATING SYSTEM SUPPORT  Sumatra PDF reader supports Windows 10, 7, 8, Vista and XP.
2. OPTIMIZATION Sumatra is optimized for ease and speed. No fancy extras.
3. LICENSE Sumatra is licensed under GPLv3 license.
4. FORMAT SUPPORT  It also supports many formats other than PDF. EPUB, MOBI, FB2, CHM, XPS, and DjVu.
5. LIGHT WEIGHT  This free and best PDF reader is very very light and its 64-bit installer is just about 5 MB in size.
6. KEYBOARD SHORTCUTS  A lot of keyboard shortcuts are supported. These shortcuts help you to easily navigate through the PDF and enhance reading experience.
7. LATEX Sumatra provides easy previewing of LaTeX documents.
8. INTEGRATION You can configure other text editors to integrate Sumatra.
9. PORTABLE EDITION It is a great bonus. Sumatra PDF is also available in portable edition. Just keep it in your USB drive and take with you everywhere to use on other computer systems.
10. ALL ESSENTIALS This light weight program just carries the essentials for viewing PDFs and eBooks, navigating, searching and organizing them.
11. TOOLBAR After you open the document in reader you can see the minimalist toolbar which provides easy access to the most common things.
12. RESTRICTED MODE Sumatra also supports running in restricted mode. Though some actions that are not appropriate in such context are disabled.
13. ABSENCE OF ADVANCED FEATURES  If you want a simple and light weight PDF reading tool, with all basic requirements, Sumatra is the perfect choice. In case you are looking for advanced features, you should probably not opt Sit. Sumatra lacks many of advanced features like annotation, signing and form filing. Besides, editing interactive forms and adding comments is also not possible.
14. COMMAND-LINE ARGUMENTS There are also command line arguments available in Sumatra PDF Reader. They can be used for simple commands like open PDF at given page, run in restricted mode or print a page.
15. BROWSER PLUGIN The full installer version of Sumatra PDF Reader, includes a browser plugin for Firefox, Chrome and Opera. Its not installed by default and you have to configure installer's options.
16. NOTES  If you enable the option of "Remember Settings For Each Document", close the document to re open it, you will be returned to the page shown when it was closed.
Sumatra PDF Reader Offline Installer Technical Setup Details
SOFTWARE FULL NAME: Sumatra PDF Reader
SETUP FILE NAME: SumatraPDF-3.1.2-install_GetPCApps.com.exe
FULL SETUP SIZE: 5 MB
SETUP TYPE: Offline Installer/ Full Standalone Setup
COMPATIBILITY ARCHITECTURE: 32 Bit (x86) / 64 Bit (x64)
DEVELOPERS: Sumatra PDF Inc.
System Requirements For Sumatra PDF Reader Offline Installer Setup
OPERATING SYSTEM: WINDOWS 7 | 8 | 10 | XP | VISTA
MEMORY (RAM): 1.0 GB RAM Needed
HARD DISK SPACE: 50 MB Hard Disk Space Needed
PROCESSOR: Intel Core 2 Duo 2.5 GHz or faster
Download Sumatra PDF Reader Offline Installer Setup For Windows 7 | 8 | 10 | 11
Click on links given below to start downloading Sumatra PDF Reader Offline Installer Setup. This is a full offline installer and standalone setup for Sumatra PDF for Windows PC.
Download Sumatra PDF Reader Setup
SumatraPDF-3.1.2_GetPCApps.com.zip
SumatraPDF-3.1.2_GetPCApps.com.zip
This Sumatra PDF Reader offline installer setup is compatible with both 32 bit and 64 bit Windows versions and will work with Windows XP / Vista / 7 / 8 / 8.1 / 10.