IrfanView Offline Installer Overview
They say, "One picture is a worth one thousand words". They are right. Photography and art has been man's favorite hobbies for centuries. Today is computer era, and we all use computers to store and edit our favorite pictures. Professional image editors comes with learning curve and are heavy for system too. Today, we will tell you about an image editor which is easy to use, rich in features and very light-weight. Its name is IrfanView.
IrfanView is an image editor, organizer and converter program for Windows. It can play video and audio files. It also comes with some image creation and painting capabilities.
IrfanView Offline Installer Setup Features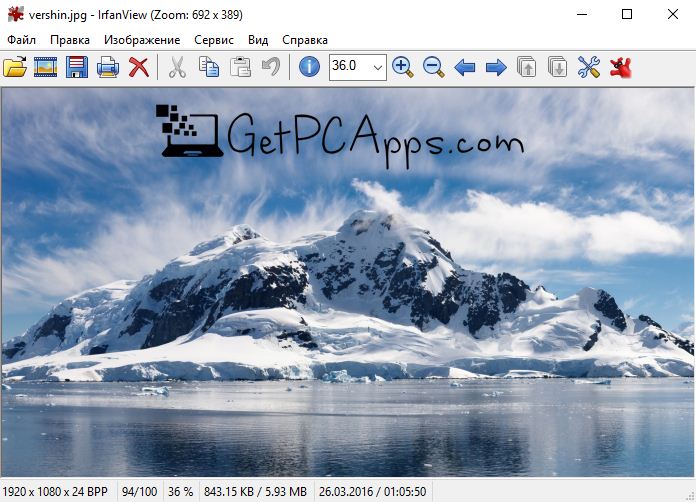 SPACE Basic installation occupies 2 MB of disk space. Full installations with optional plugins requires 30 MB.
VAST FORMAT SUPPORT IrfanView supports a variety of formats. Some famous file formats, it supports are JPEG, BMP, PNG, GIF, TIF, JPM, raw formats, digital camera formats, PDF, MP3, MPEG, Flash, WebP and TGA.
VIEWING Besides, IrfanView is one of the best image viewers because of its mind blowing viewing options. There are many fit to screen scaling options. There is also an automatic slideshow function. You can open in sequence all the image-files and video clips (regardless of format) in a specific folder. These slideshows can handle both still images and video or audio clips.
CREATIVITY TOOLS IrfanView comes with remarkable multimedia creating capabilities. You can easily create beautiful screensavers and stunning slide shows .You can make these slideshows and screensavers from collections of images with optional accompanying MP3 audio. The files can be saved as stand-alone executable which run on Windows computers without IrfanView installed. These all actions like slideshow creation, screensaver creation, batch image translations and preset image processing steps can be applied on selected images. Also, you can create icons with IrfanView. All you have to do is to convert common graphic files into .ico format. IrfanView supports Adobe-compatible 8BF image processing filters which includes many freely downloadable ones, primarily for application to whole images. You can also create your own panorama by image by combining two or more images. You can decide whether you are going to combine the images horizontally or vertically. The paint option enables you to draw lines, circles, arrows etc.
EXTENDED FEATURES IrfanView has complete driver support for retrieving images from scanners. These images can be easily copied and paste to MS Office tools, like OneNote 2016 and other office programs. It also comes with extended support for screenshots.
BASIC EDITING TOOLS All basic editing tools are available in IrfanView, like crop, resize and rotate. Brightness, contrast, saturation, hue and gamma level of images can also be modified. Also you can play with RGB values. You can even swap the modes from RGB to BGR or GRB etc. All these changes can also be applied to multiple images by using batch option. It is also possible to add text on images like some watermark. Images can also be flipped.
RESIZE IN GIF You can apply resize in animated GIF images to make them larger in full screen modes.
PLUGINS IrfanView makes use of plugins to handle a variety of additional image, video, and sound formats and to add optional functions like filter processing or other program features. With the bundle of plugins, the program has been recommended for viewing obscure image formats, or corrupted files, which commercial photo editing software cannot read.
THUMBNAILS The task of this function is to display thumbnail file previews and allow picture organization and management. This function applies on the sizes from 50 * 50 to 600 * 600 pixels.
EFFECTS IrfanView comes with dozens of amazing effects. Some example are emboss, sepia, 3D button, blur, edge rotation, oil paint, explosion, pixelize, swirl, twirl, red eye reduction, rain drop, solarize, metallic and fish eye. Color corrections and histogram are also there to help you.
IrfanView Offline Installer Technical Setup Details
SOFTWARE FULL NAME: IrfanView Photo Viewer & Editor for Windows PC
SETUP FILE NAME: iview451_x64.zip
FULL SETUP SIZE: 2.91 MB
SETUP TYPE: Offline Installer/ Full Standalone Setup
COMPATIBILITY ARCHITECTURE: 32 Bit (x86) / 64 Bit (x64)
DEVELOPERS: IrfanView Inc.
System Requirements For IrfanView Offline Installer Setup:
OPERATING SYSTEM: WINDOWS 7 | 8 | 10 | XP | VISTA
MEMORY (RAM): 1.0 GB RAM Needed
HARD DISK SPACE: 100 MB Hard Disk Space Needed
PROCESSOR: Intel Core 2 Duo 2.5 GHz or faster
Download IrfanView Offline Installer Setup For Windows 7 | 8 | 10 | 11
Click on links given below to start downloading IrfanView Offline Installer Setup. This is a full offline installer and standalone setup for IrfanView Photo Viewer Software.
Download IrfanView 64 Bit Setup Download IrfanView 64 Bit Plugins
Download IrfanView 32 Bit Setup Download IrfanView 32 Bit Plugins
This IrfanView offline installer setup is compatible with both 32 bit and 64 bit Windows versions and will work with Windows XP / Vista / 7 / 8 / 8.1 / 10.