What is PhotoVibrance?
PhotoVibrance is simple and easy-to-use desktop animation software compatible with both Windows and Mac OS. Being crafted by Vidello, it can be the table-turner for social media campaigns.
It provides motion to your still photos and makes it like video clips or GIFs. Some excellent features of PhotoVibrance are superb visual effects, sky replacements, 3D particles, 3D parallax effects, and magic motion.
Download PhotoVibrance: Why do you need it?
Till now, you know that it is photo animation software, now let me tell you the fact. As a content creator and marketer, you can't deny that animated pictures grab the eyeballs more easily. Not only that it lets them engaged and convinced of the services or a product a business wants to launch.
Download PhotoVibrance from Here
✅ Is PhotoVibrance Worth $49? Must Watch Before You Buy It!
Interestingly, only animated video can make the viewers understand efficiently and quickly although it might be fancy. Surely, the features are going to be fruitful for your marketing strategy. Let's see the next segments to make the concept more convincing to you.
PhotoVibrance Review: Benefits & Ease of Use
I hope these amazing 6 benefits blow your mind for sure and make you convinced somehow for the software. So, here they are;
Create fascinating Photo Animations in Minutes
Within a few minutes, you can get your still photos into motion with the help of this software. How interesting!
It's really cool to me when most competitors make the software work only online, you can use it completely without an Internet connection. A blast for the upcoming generation!
Easy to use: Not required any technical skills
Think what, you don't need to profound technically to use this software. Is that much easy? Can't believe it!
Unlimited Animation image creation and exports
Guys, get into PhotoVibrance today as you can make unlimited photo animations and can export them as well.
Easy to use software for social media marketing
The key reason to turn to this software is it is going to be the game-changer for your business campaign on social media. With this, you can obtain more viewership and engagement.
Outstanding support service is also crafted for supporting and guiding you to use the software. Just reach to the assistance, whenever you have any doubts or queries.
PhotoVibrance Review: Feature and their Benefits
After knowing impeccable perks of PhotoVibrance, we have reached our very next segment of features. Let's check what PhotoVibrance has in store for us.
This software becomes the best in business because of giving an entirely new dimension to the images using the 3D Parallax effect. This means you can get 3D images.
It is preferable over other competitors due to the inclusion of motion arrows for the magic motion to any image within a few seconds.
It equips with in-built 3D camera technology and particles which convert any images in animated form. It is completely result-driven on the basis of grabbing viewers' attention.
One of the coolest features of this software is you can add particles and overlays for sky replacement hassle-free. Any kind of cool effects can be added separately for making pictures quite engaged.
PhotoVibrance incorporates you to entertain various cool features which assist in adding superb visual effects to the images using sky replacements, 3D particles, 3D Parallax effects, magic motion, and lots more.
I was stunned when I come across the features. PhotoVibrance is the triumph card you can use for sharing stories and posts on different social media platforms like YouTube, Instagram, and Facebook.
By adding some astonishing visual effects using PhotoVibrance you can obtain perfect attention-grabbing content for a business social media campaign.
Easy savings and Exporting
This software accompanies you to save the work and export it easily whenever you want. Also sharing is possible with it.

PhotoVibrance Review: System requirements
It's time to see the configuration needed for the system to install PhotoVibrance. This software can be downloaded and installed on any two systems as it is compatible with both Mac and Windows operating systems.
Install it today and enjoy the experience of the aforesaid features. Get cleared? Now, let's see what you can enjoy actually inside PhotoVibrance.

What makes PhotoVibrance different from the Competitors?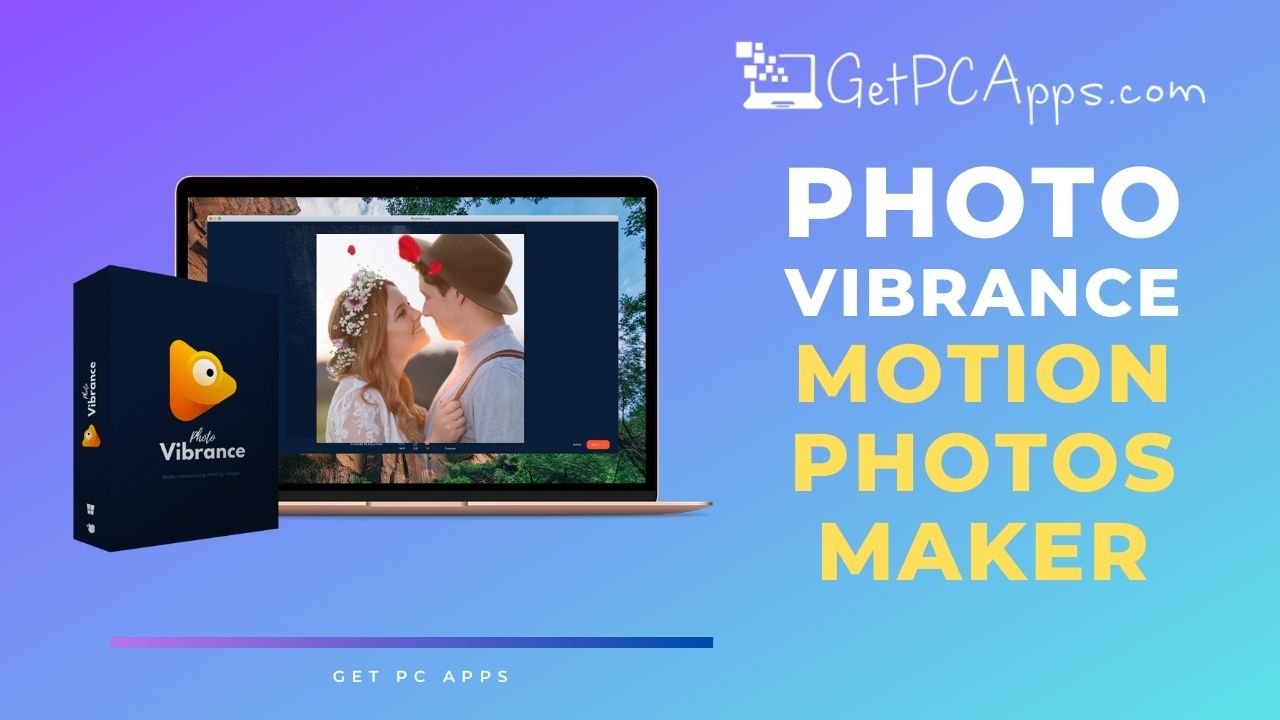 Well, we have come across a lot of factors like features and benefits in the last sections. Here, we will assess the reasons to regard it as the best amongst its competitors.
The key reason is it is simple and easy to understand and use
The work can be seamlessly exported and imported using this software
The exquisite attributes range makes it exceptional and best in this business and it is the major aspect to consider it as the best
Therefore, these are some primary reasons to recognize this photo animation software as best if compared to other alternatives available and doing in the market.
But now I will let you know why this is the ideal and only option to opt for your business. How it is going to give a kick-start to your business so that it takes off. So, let's see.
Is PhotoVibrance Suitable for You?
In my opinion, PhotoVibrance possesses of some impeccable features beyond your imagination to make it exceptional and unique amongst others.
Buying this photo animation software is really beneficial to create some astonishing GIFs and short animation videos if:
Your profession makes use of animated videos for sales and branding and you are a video creator, blogger, or social media marketer.
You are a photographer by occupation and want to create animated images easily on vivid topics.
You are looking for substitution of complex and expensive photo editing software that can meet your requirements.
Instead of hiring a professional animator, you are a DIY-kind-of person
In affordable rates, it is compatible with both MacOS and Windows. Let's delve into the reasons to choose it over other software.
What you can do with PhotoVibrance?
✅ PhotoVibrance - 3D Parallax Video Maker Motion Pictures - Bring Photos to Life 2021
PhotoVibrance perfectly suits various needs and it is evident. Here, I will let you know beneficiary factors you can access by signing to PhotoVibrance.
You can make some spots of the still image movable as per the respective imagination and direction. The designing and photography pave a new way with this feature. It is a great concept for any designer and photographer who knows a picture speaks a thousand words.
An interesting part of PhotoVibrance is various dimensions can be added to the image. Even you can make 3D images to obtain more eyeballs by creating a huge impact on the digital marketing campaign.
Now, let me take you how to start using PhotoVibrance in the next part.
How to use PhotoVibrance to create my first Photo Animation?
You already know PhotoVibrance can assist in developing images to obtain great impact. Here's how you can start your very first project with it.
Step 1:
Import Image: Image should be added which deems animation and editing.
Step 2:
Edit: Arrows need to draw to create the motion in a particular direction. It will get included automatically. Pre-made overlays like dust, fireworks, rain, smoke, and fog can be added with effects such as hearts, butterflies, and balloons. Even images and text can be included in a particular photo as well.
Step 3:
Export or Save: Once the project is done satisfactorily; click on save button to export the image on any convenience folder of the system.
It's very simple to perform on PhotoVibrance to change the things into a convincing one.
PhotoVibrance Pros and Cons
After easily handling your projects with PhotoVibrance you must know the perks and limitations you are going to experiencing while using it.
PhotoVibrance Pros: What I Like
• Easily understandable and usable
• An array of animation effects
• Addition of texts as per requirements
• Customization of the effects
PhotoVibrance Cons: What I Don't Like
• No availability of redo or undo option. But I hope within next update the issue will be addressed.
Are you thinking of its price? Here we go….
PhotoVibrance Review: Pricing
Here, I'll keep a detailed insight in the pricing and categories of PhotoVibrance. In contrast to other similar software, it is highly cost-efficient. PhotoVibrance Personal License is available only at $39 and PhotoVibrance Commercial License can be obtained at just $49. Register yourself today on the basis of your needs.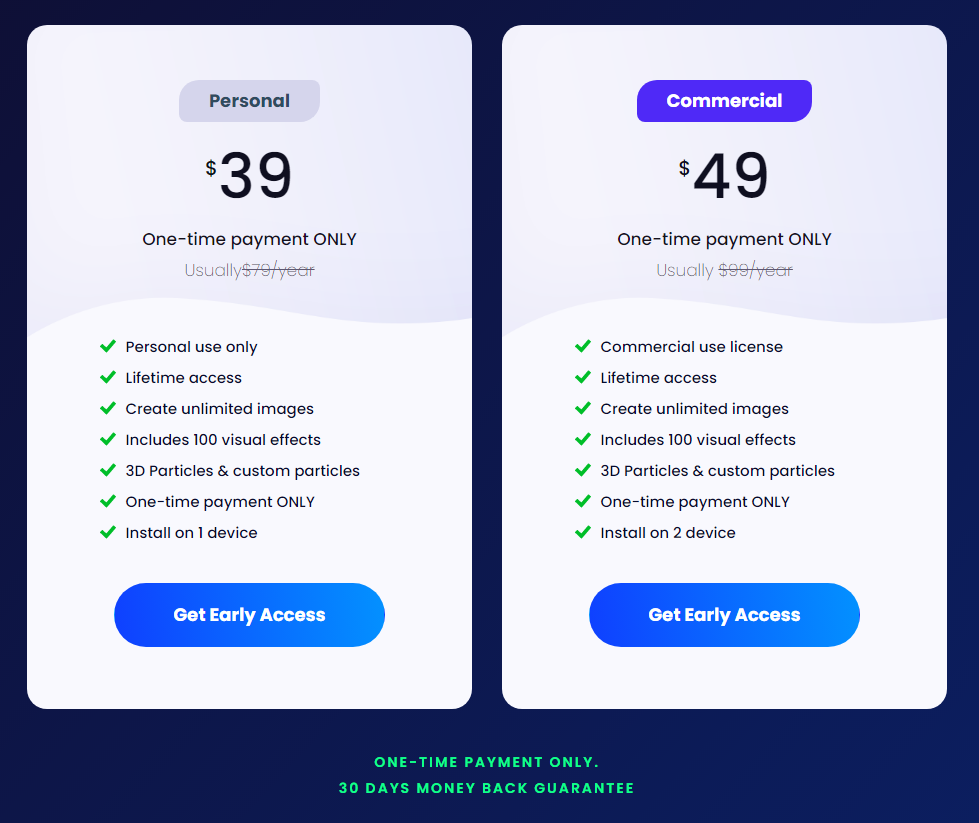 Everything You Get with PhotoVibrance Software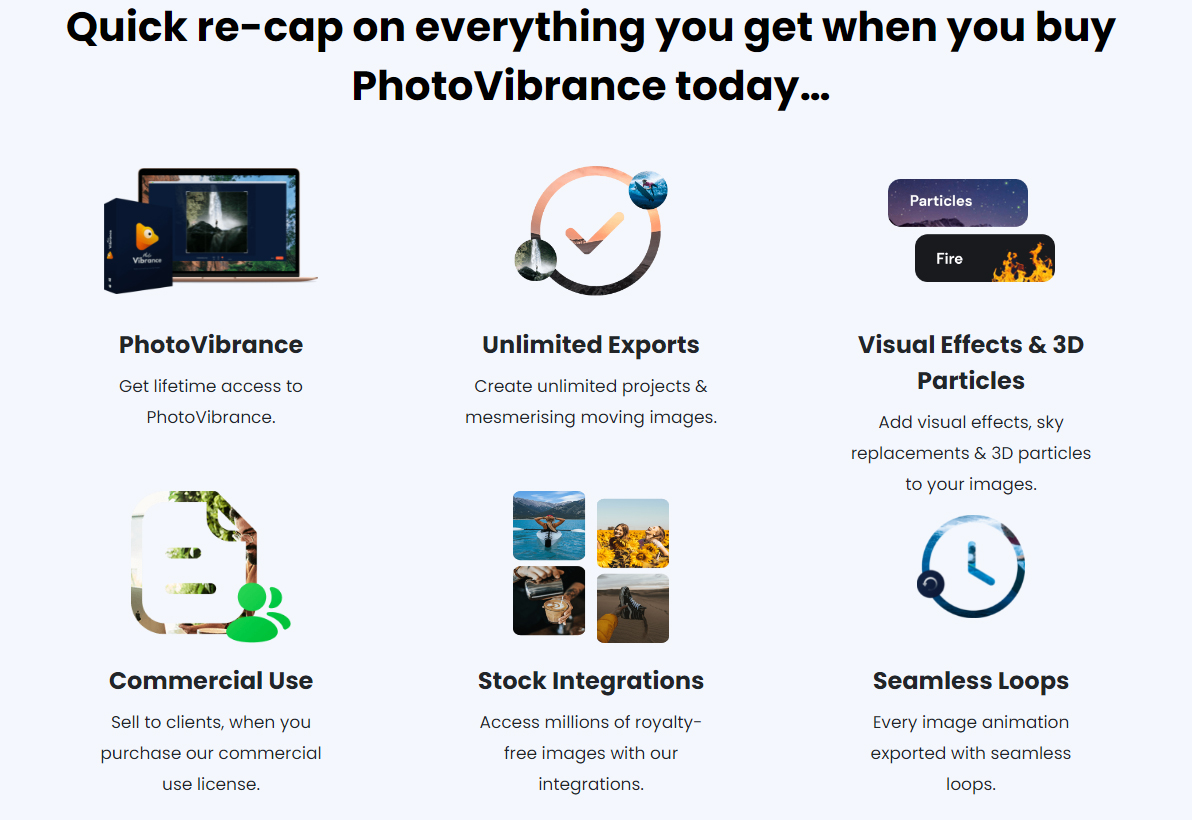 PhotoVibrance Review: Upgrade or Upsell
#1: PhotoVibrance Kickstart ($67 – $97)
The creator kit includes additional elements, templates & resources such as:
15x Done-for-you templates for an entire year (total 180)
Object image library
Extra effects
Option to share projects with team members & other users.
3x Extra licenses for team members
#2: Video Pro Creator Bundle ($197)
This video bundle includes four of our best selling products.
Scroll Stoppers
Twinkle Audio Platform
Twinkle VFX
#3: Twinkle Audio Suite ($99)
Over 500+ custom-made royalty-free music tracks in all the most popular music genres.
20 new tracks added every month.
Full SoundFX library
Multi-language Text-to-speech creator
Why You Should Sign Up To PhotoVibrance Now?
As we discussed already, it is an ideal tool to serve various requirements of professionals like photographers, marketing agencies and marketers. This tool is quite efficient and handy available at feasible rates which will increase surely after being launched. By signing in you can come to understand its value and efficiency as there is no other way to do so.
Let's check in what ways it can assist small businesses.
Save Time and Money with PhotoVibrance
As far as I am concerned, it will assist you in saving plenty of money and time simultaneously. Due to easy understandability, numerous projects are easy to perform using this software for saving plenty of time.
Being small business owners, mostly you require the help of a professional designer. But this software accompanies you to develop attention-seeking animated images for social media campaign to reach out to potential and targeted audience.
Even any marketing agency will not fail any more deadlines in order to deliver the projects to earn good profits. As a freelancer, you have the golden chance to earn more by putting less effort.
Important FAQ about PhotoVibrance
FAQs will surely help you to gain more information on this software. So what are we waiting for! Let's start….
Does PhotoVibrance is a one-time purchase?
Yes, the program will be compensated for the very first time only. You will receive the authorization and access to use it for the rest of your life.
Can one install PhotoVibrance on both Windows and Mac?
Yes! It can be downloaded and installed both on Windows and MacOS respectively.
Which license of PhotoVibrance is ideal for you?
In case you want to use it for personal use then a personal license will be better. Otherwise, social media marketers, freelancers, and agency owners should opt for the commercial one.
How to obtain PhotoVibrance support?
In case, you need support, feel free to write on [email protected] or reach via helpdesk- support.photovibrance.io
Is any mobile app of PhotoVibrance available?
What's about the cancellation and refund policy?
A 30-day cancellation policy is there to use this software. In case, you find something obsolete cancel your agreement immediately and generate a refund.
PhotoVibrance Alternatives & Competitors in 2021
Now it's time to penetrate a little more for assessing the similar software to that of PhotoVibrance to determine its influence in the market. Here is the perfect competitor and alternative of PhotoVibrance:
Adobe Spark
Adobe Spark has been highly acclaimed as the best alternative to PhotoVibrance. It performs seamlessly while it is about to add life to the images in animation forms. You can obtain a fantastic outcome by carrying out the task on it with much ease.
Why Use Photo Animation Software?
This software will incorporate you for enhancing the visual storytelling approach's impact in the social media. You can depict your perspectives in much clear and convincing way.
PhotoVibrance Review Verdict
At last, we have reached at the verge of this wonderful review. I expect I have cleared all your doubts related to this very impressive photo animation software. Although new, but in my eye, it is the most promising and ideal animation software if compared to other available competitors.
YotuWP warning: API Key was removed, please contact to your admin about this issues.
So, hey there! Don't miss out on the chance to get access to PhotoVibrance today! Start working on it to achieve excellent results; be it traffic, engagements, leads, and attention on any social media platforms. Price can vary; so hurry up and subscribe to it now at a fair charge.