Carrying USB Flash drives have become popular these days, that even school students, businessmen, and the domestic house owner have to rely on them. With the increased utility of these USB drives among each and every field of life, these flash drives have, consequently, increased in the capacity and decreased in the price. We have also covered Best AntiVirus Software for Windows 7, 8, 10, 11.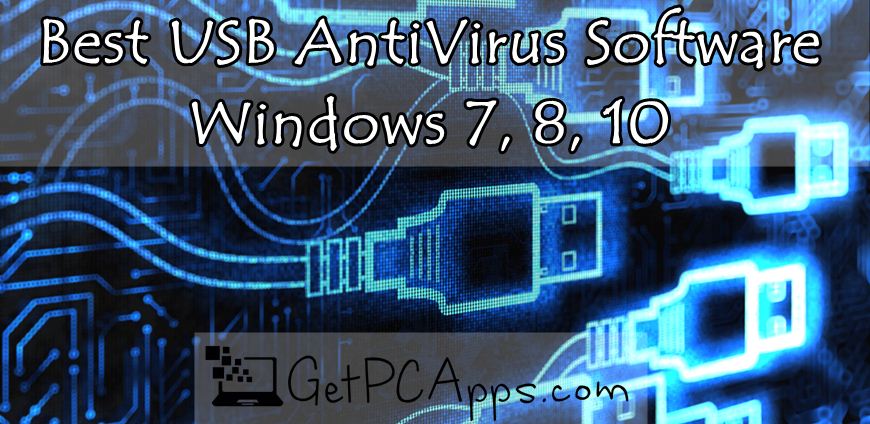 Top 5 Best USB Antivirus Software for Windows 7, 8, 10, 11 Computer / Laptop
Their portability and versatility have eased almost every task we used to do. However, their security is still a matter of questions for most of the users, since the viruses have become a problem. There are many USB Antivirus software available that can help the users to eliminate the viruses present in their flash drives. We have rounded the top 5 out of them to prevent your computers from getting infected.
1: USB Disk Security
From Zbshareware, USB Disk Security is one of the best and the most efficient USB Antivirus software that is compatible with all the other anti-virus programs. The software is designed to efficiently monitor the flash drives in real time and allows the users to enjoy its additional features like Safe Web Navigation and much more. It is free to try, but you have to pay for its complete version.
Download Link: USBGuard6.5.0.0_GetPCApps.com.zip – Mirror
2: Panda USB Vaccine
Another best name for the USB security is Panda USB Vaccine that is an application designed to protect your system from vicious malware and viruses. It is the easiest and the fastest way to clean your USB drive and keep it from infecting your system. It can be set up automatically and it vaccinates your flash from getting any viruses.
Download Link: USBVaccineSetup50a_GetPCApps.com.zip – Mirror
3: ClevX DriveSecurity
When it comes to antivirus, ClevX DriveSecurity is definitely the first choice for most of the users and because of a very good reason. As a matter of fact, this USB Antivirus is the most powerful antivirus software designed for the USB security that scans out all the viruses and threats your USB owns. It is completely a credible software to try.
Download Link: Drivesecurity-installer_GetPCApps.com.zip – Mirror
4: USB Immunizer
This Bitdefender's USB Immunizer is another best tool for the protection of your system from potable viruses that transfer from a USB flash drive. The software disables autorun related threats, even before they access the computer. After the installation on the system, this USB Immunizer constantly watches for the threats coming from the newly inserted USB and immunizes them on the fly. Besides being powerful, it is safe and completely free.
Download Link: BDUSBImmunizerLauncher_GetPCApps.com.zip – Mirror
5: Ninja Pendisk
Ninja Pendisk is another free yet functional USB antivirus software that works great on any windows including 7, 8 and 10. The Ninja Pendisk, after installation, quietly hides inside the taskbar and waits for any threat and virus to attack the system from a newly inserted flash. It attacks the viruses and makes the computer safe again.
Download Link: Ninja_GetPCApps.com.zip – Mirror
These Top 5 USB Antivirus Software are compatible with Windows XP, 7, 8, 8.1 and Windows 10. Make sure to keep your Desktop secured with these best software!