Welcome to our CreateStudio Pro 3.0 review. If you have been thinking about creating cool animation videos from your computer, without graphic designing or coding, this just may be what you need. Introducing 'Create Studio'.
CreateStudio is a powerful video animation software using which you can create a variety of professional and impressive animation videos within minutes.
This is a desktop-based video animation tool, that can be used on both PC and MAC. The makers of this animation tool claim that you can create videos for any occasion and purpose, in minutes, using Create Studio.
Does this mean that the possibilities with this tool are endless? Are the types of videos we can create using this tool only limited by our imagination?
✅Best Video Animation & Business Video Editor Tool in 2023
Let's find out.
What Exactly Can You Create Using This Video Animation App?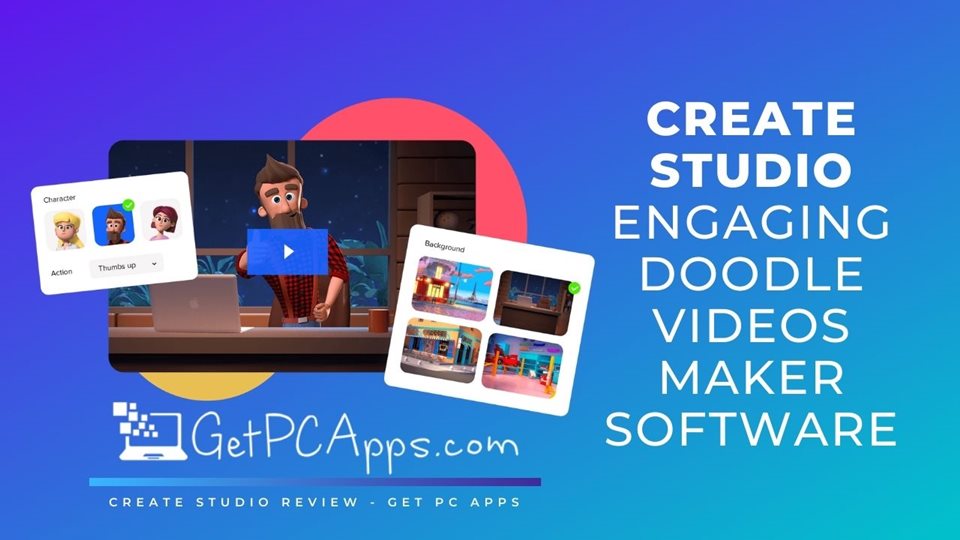 Create Studio has an inbuilt drag-and-drop functionality using which you can create complex video animation effects, without actually doing anything complex.
Download CreateStudio Pro 3.0 from Here
Before reviewing the unique features of the Create Studio app, let us see what can we create using this video tool.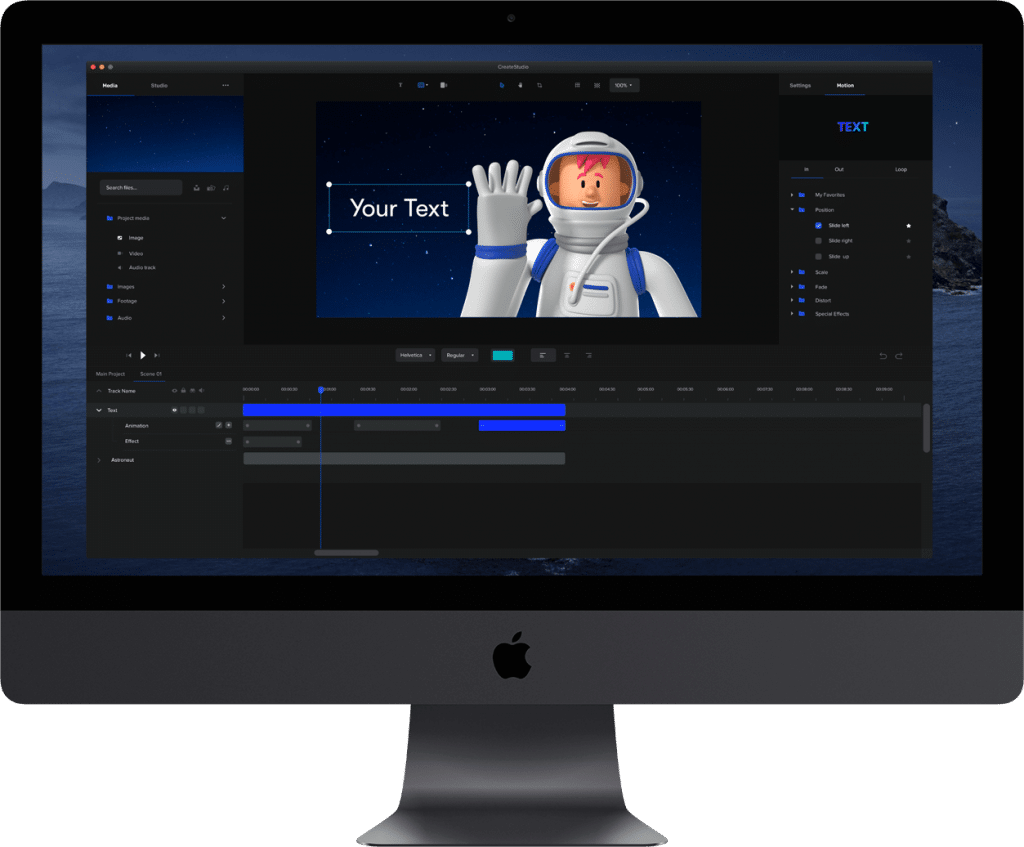 Explainer Videos
Explainer videos are arguably the most eye-catching and highest-converting videos online, today. Using the CreateStudio Pro 3.0 app, creating explainer videos with 2D & 3D characters is a breeze.
You can create amazing explainer videos using the pre-made lifelike animated characters, assets and elements that have been included in the app. And of course, you can edit and customize these assets and elements to your liking.
Promotional or Doodle Videos
Want to launch an affiliate marketing campaign or sell your own product? Promotional videos are the way to go. Using the Create Studio video creator app, you can create stunning promotional videos in minutes.
You can also mask your media with different shapes and later animate them. Doing this will give your videos the much-required elegant look and feel.
Teaser Videos
These are your typical promotional videos with a twist. These videos are meant to create curiosity in the viewer and to motivate them to take desired action.
The other kinds of videos that you can create using the 'Create Studio' video tool are lower third animations, logo stings, YouTube content videos, social videos, sales videos, mobile stories, eCommerce ads, local business videos, and more.
Here are some sample videos made using Create Studio.
Create Studio Pro 3.0 Doodle Videos Sample
CreateStudio Doodle Video Maker Whiteboard Text Animation - September Update
Create Studio Pro 3 Features Review
We have listed some of the main features of this video creation app below.
Has a completely drag-and-drop-styled timeline editor
The user interface is intuitive and easy to use.
You can create unlimited videos using this tool in any resolution. Even the 4K videos are supported.
The motion presets panel makes previewing and adding elements to the videos quicker.
Many animated characters are included in the front-end purchase of CreateStudio Pro 3
Can create incredible designs by adding ingredients to shapes and structures.
Can create custom animations.
With the green screen editing feature you can quickly and easily remove background colour from any video or picture.
Videos can be created in any shape or size.
You can animate SVG images using the motion presets.
This tool has animated Emojis using which you can make your videos fun and engaging.
Can easily add colors using the eye dropper tool.
Create Studio New Features Update
Create Studio software is one of the most updated apps right now. Here are the two most recent updates that caught our attention. The first one is the text-to-speech support for multiple languages and the second one is the ability to create doodle text. Yes, now you can create doodle text animation with Create Studio. Watch the video below to learn more about these updates.
How To Create Videos Using CreateStudio Pro 3.0?
You can create stunning animation videos using the CreateStudio Pro 3.0 app in a few simple clicks. Just select the type of element you want to add, click and drag it onto the canvas, edit it, repeat the process, and then publish the video.
As simple as that. Here's the official demo video that shows you how to create video animations within minutes. (We have also included our own Create Studio demo video below).
Create Studio Pro 3.0 Demo Videos
What Exactly Do You Get If You Purchase Create Studio Software?
Here's what you get with the front-end purchase of Create Studio.
Lifetime access: CreateStudio 3 Software
3D Character Builder
Voice Lip Sync with 3D Characters
New Fast Video Render Engine
Create UNLIMITED Videos
Commercial use license
Install on up to 2 devices
Doodle sketch creator
50 Done for you templates
50 Scroll Stopper video ad Templates
8x free 3D Animated Characters
20x Free 2D Animated Characters
30+ Backgrounds
100+ Animated Emoji's
Green screen color removal
Create gorgeous explainer videos
Text-to-speech creator (multiple languages)
Linear & radial gradients
Lottie Files Support Added
Pexels + Pixabay royalty-free stock media integration
30 Day risk-free money-back guarantee
Create Studio Price: How Much Does It Cost?
At present, the Create Studio video animation software costs a one-time fee of $67 for lifetime access and updates. This purchase also gives you access to the commercial license using which you can sell the videos created using this app and keep the 100% profit to yourself.
If you don't want to get the commercial license, you can take the personal license of this animation software, which will cost you a $47 one-time fee.
Now you can get Create Studio for a one-time price of $67 for a commercial license and $47 (a personal license may not be available) for personal use. With the commercial license, you can sell your videos to your clients. Here is the download link.
Things To Remember
Before concluding this create studio review, we would like you to remember a few things if you make the decision to buy this amazing piece of animation software.
How Many Animation Characters Are Included?
Your front-end purchase gives you access to four 3D characters and thirteen 2D characters. If you want to get access to every asset, template, and character in the tool, you will have to get the all-access pass. The all-access pass may cost you $37/month, depending on when you are reading this.
The all-access pass gives you access to 100 pre-made templates, access to all assets, characters & templates as well as 30+ new templates & new characters & assets each month.
Is The Price Truly One Time?
Yes. The create studio price mentioned on this page is truly a one-time price at this point in time. This, however, may change in the future.
Are There Any Upgrades?
Yes. You have the option to purchase a few Create Studio add-ons if you want to up your video animation game.
The first optional upgrade is the 'All Access Pass' which may cost you $37 a month, for unlimited access to all the present and future characters and elements included in the software library.
The second optional upgrade is the 'Pro Media Upgrade' which gives you access to millions of images, videos & audio tracks. This may cost you a one-time fee of $97.
The third and final optional upgrade is the 'Agency License'. This upgrade gives you access to six extra licenses for Create Studio for a price of $197.
On How Many Machines We Can Use CreateStudio Pro 3.0?
You can use this video animation tool on 2 of your devices, with the front-end license.

Please make sure that you have bought CreateStudio before buying All Access Pass Upgrade. It is an upgrade that allows access to tons of new characters, 3D backgrounds, 3D characters, and new templates.
CreateStudio Pro 3.0 Review Verdict
We never miss an opportunity to get a software deal for a one-time price and neither should you. Create Studio is a good video animation tool with decent editing and high-quality animation features.
When you compare this tool with a popular video editing tool like Camtasia, which costs around $300 for even fewer features, $67 doesn't seem like much at all.
So, if you have the budget and the need for a video animation tool, get Create Studio. This can be the perfect start for you if you are a beginner to video animation and editing.