We live in an era where we don't have time to read long, long paragraphs of what the company is saying. We just want to get done with it. Right? Well, thanks to the infographic media technique that has risen amid the fact. It serves as a great and effective communication medium between the company and the consumers.
We assume you know what infographic design is since you are here to find the right software to get the job done. However, if you are still struggling to find what an infographic design is we have you covered.
5 Best Infographic Design Software for Windows 7, 8, 10, 11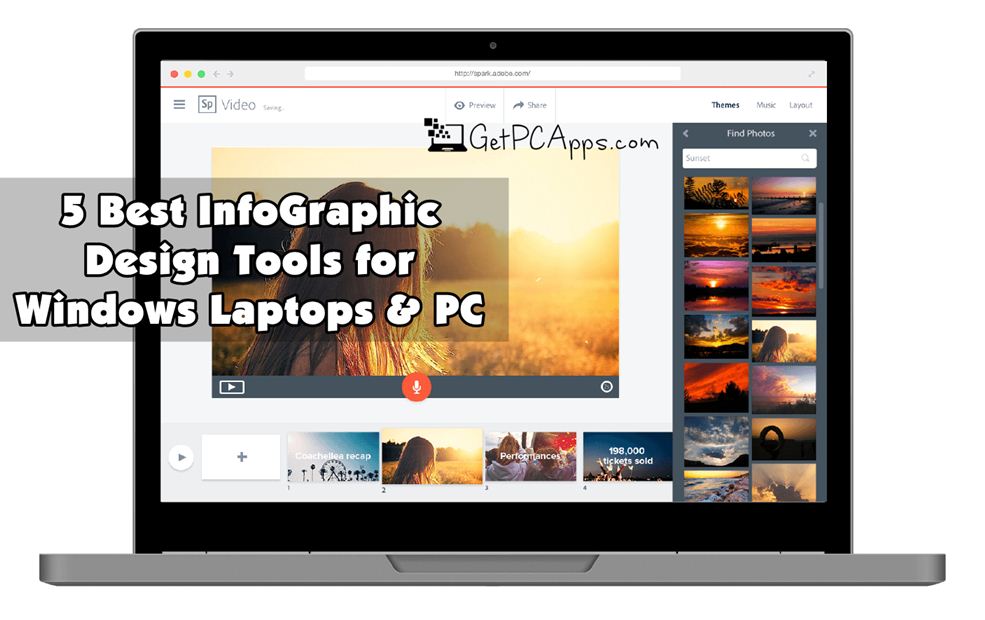 In simple words, an infographic is a mode of marketing through multimedia where the information or data is presented visually. An attractive infographic not only increases brand awareness among the people but also helps to attract consumers.
If you also want to attract a large audience using an infographic media, we have listed some best software that will help you do that right. This way you can create attractive infographics within a matter of a few seconds. So let's find out which programs made their way into our list.
You can find lots of infographic software available in the market. Some of them are a waste of time and money while some are definitely worth it.
We have prepared a list of the worth trying programs that you can also try to create stunning designs for your business. Have a look.
When it comes to designing, you would definitely find Adobe making its way to the list. This is due to the fact that Adobe never fails to impress the designers, be it professionals or beginners. Adobe Spark is one of the best infographic designing software that you can find in the market.
The program is quite simple and yet really effective. The features included in Adobe Spark are:
Thousands of templates to choose from
Traditional drag and drop interface
Cross-device sync
Color and font customization
Design resizing
Branded content management
Professional themes
In addition to this, this software is light in weight and project creation is pretty straightforward using Adobe Spark.
Although this program is not known among the designers, however, it is quite an effective one for designing infographics. This program will definitely surprise you with its features and pros. This program is quite simple and has tons of features to offer you.
These features are:
Easy to use
Simple user interface
Full layer support
Suitable for designing infographics, flyers, cards, and coupons
Customizable text and elements option
Tons of art and craft features
If you have used CorelDraw, you will feel home to this program.
Next up on the list is the Corel Draw which is one of the most anticipated designing software in the market. This program has a lot to offer you ranging from professional tools to beginner basic features.
In addition to that, CorelDraw includes:
Intuitive UI
Simplistic design elements
Drag and drop interface
Image editor
Image tracing
Templates
2D drawings
Award-winning digital art
And much more. CorelDraw is the ultimate designing too that you all need.
Another Adobe product made to the list and guess why? Well because of its exotic features and straightforward project creation. Adobe Illustrator has been a fav of many professional graphic designers and due to a number of good reasons.
Whether you are looking to create your company logo, flyer or an infographic Adobe Illustrator is there to offer you:
Extremely intuitive UI design
Perfect toolset for designing
You can create simple doodles
Snap to pixel capability
Free transform option
Images in brushes
Sync feature
Smart guide
If you are looking to create powerful infographics, no better tool than Illustrator can serve you.
This one is a web-based infographic designing software that is probably the most simple one on the list. This program has got you covered with every single infographic designing tool but with the minimalistic approach.
This program is great and offers:
Intuitive UI
Unlimited templates categorized in categories
Interactive maps
Free startup
Easy and pretty simple to use
Customizable text, fonts, and colors
All in all, piktochart is a great power tool to create infographics to make your communication matter.
While infographics seem easy but they are simply not a piece of cake. Fortunately, these tools make it quite easy to design them. Get these tools on your Windows and create next-level infographics like never before.