When you talk about PC gaming, the first thing came up in your mind is RGB lights. For PC gamers RGB keyboards and mouse aren't the only things available, if you want you can get yourself a full RGB gaming setup. Gaming keyboard of Logitech comes with RGB lights but you can also enable Audio visualization EQ on them. In today's post we will show you the full procedure of how you can do that. There is a small program named as Logitech Spectrogram, below we have given a little guide on how to use it for enabling Audio visualization.
How to Enable Audio Visualization EQ on RGB Logitech Keyboard for Gaming?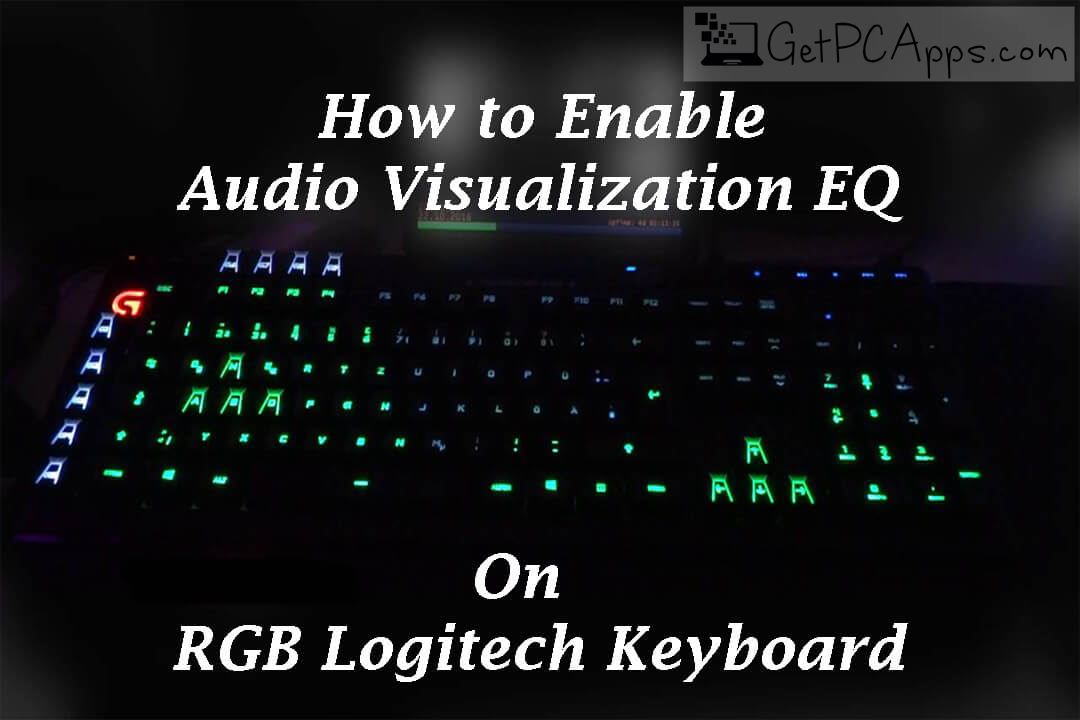 As we have mentioned above that below is the full procedure of how to download, install and use Logitech Spectrogram program to enable audio visualization on your Logitech gaming keyboard. Kindly read the full post and do not skip any instructions or steps.
Tutorials - Logitech Keyboard Audio Visualization
Logitech Spectrogram for Logitech Gaming Keyboard
Logitech Spectrogram displays an audio spectrogram on Logitech RGB Keyboards based on the audio currently playing on your computer. It also displays some basic lighting effects on Logitech RGB Mice and Headsets, with more effects planned. The spectrogram can be controlled using the Windows program or by using the ARX App on an Android or iOS mobile or tablet device. This program was the winner of Logitech's ARX Control Challenge.
How to Enable Audio Visualization on Logitech Gaming Keyboard
First of all download Logitech Spectrogram by clicking here, after that follow the steps mentioned in the instruction down below as it is to run and use this program on your PC.
Download Logitech Spectrogram 2.80: 64-bit | 32-bit
1. Download Logitech Spectrogram Zip file from the above link.
2. Open the downloaded file.
3. Extract all the files from here to a temporary folder.
4. Now open the Logitech Spectrogram.exe from the extracted files.
5. A window will pop up saying Import settings from previous version.
6. At the bottom right corner of this window, there will be two options given. Import settings or Cancel.
7. If you are using this program for the first time then click on Cancel.
8. After that, Logitech Spectrogram program will open in front of you with all the options. That's it, now you can enjoy audio visualization on your Logitech gaming keyboard.
There are a lot of different lightning affects you can select form the program and in the future update they will add even more.
Supported Devices
The Logitech Spectrogram program is compatible with the Logitech devices listed here. Please note that this list is not exhaustive. That's why even if your Logitech device is not listed there, it may be worthwhile to try the program anyway. Devices in italics have not been tested but should work due to the wide device support provided by the Logitech LED SDK. Devices with a star do not support some features required by the spectrogram (eg. per-key lighting, full RGB support) but should work to some degree.
Logitech G Pro Mechanical Gaming Keyboard
Pro grade Logitech G mechanical keyboard built to the exacting specifications of eSports athletes for a competition level blend of speed, precision and quiet performance. Its durable Romer G switches deliver 25 percent faster actuation than standard mechanical switches, so every key press is nearly instantaneous from fingers to screen. Durability is 70 million key presses. Ultra-portable sleek and compact design frees up table space for mouse movement and is easy to pack and transport to tournaments.
Detachable Micro USB cables features a three pronged design for an easy, secure connection and safe transport in your travel bag. To buy Logitech G Pro Mechanical Gaming keyboard you can visit here.
We have tried our best to simplify the procedure of how to enable Audio Visualization EQ on RGB Logitech Keyboard for Gaming. The method is not difficult at all, you just have to follow the steps of the instructions defined above correctly. Please note that Logitech Spectrogram program may take a while to start when it is run for the first time. Windows Smart Screen may also prompt you to allow the program to run. It runs perfectly on any capable Logitech gaming keyboard, mouse and headphones.