Apple's iPhone and iPad captured pictures now have the extension of the. HEIC file since they take photos in HEIF image format and Windows does not support HEIC files,
Though there are some ways to view them or convert them to normal JPEGs in Windows 10 as we have mentioned above it does not natively support this format. Some time ago it was not a problem since at that time Apple's iPhone and iPad image format was simple JPG as other devices have.
Download HEIC Image Codec for Windows 10 Free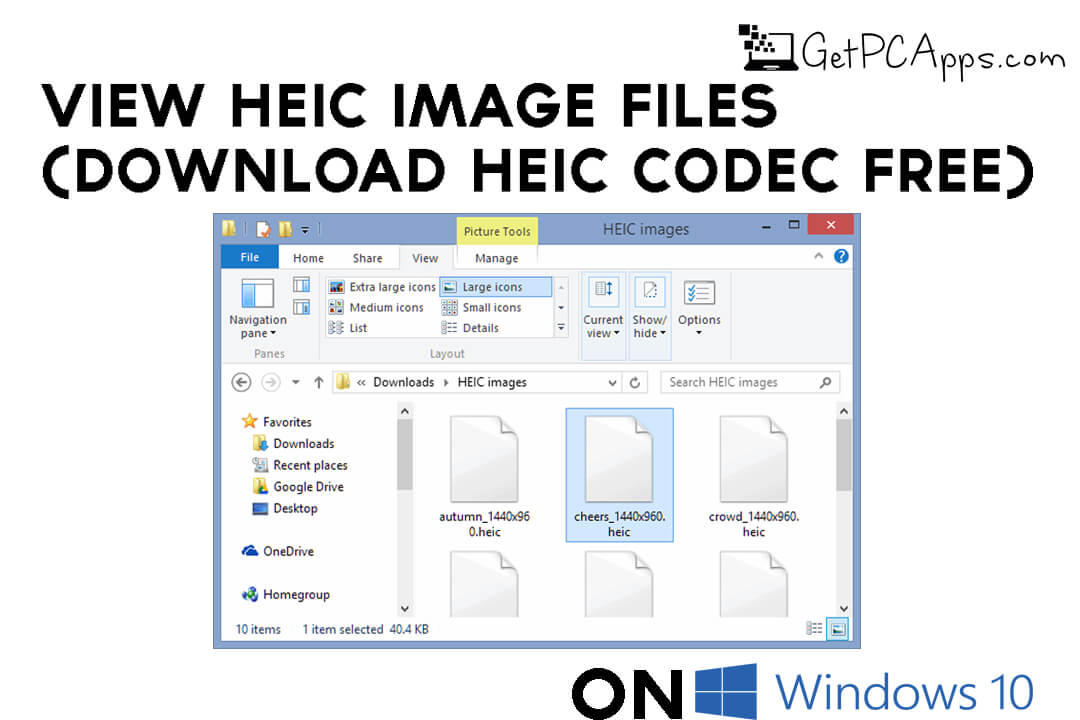 Now in today's article, we will step by step share with you the procedure of how you can view HEIC Image Files in Windows 10. Follow the instructions we have mentioned below, the method is not difficult at all, in fact, it is one of the simplest ones.
Also, make sure to visit GetPCApps.com to find out more useful guides and software for your Windows PC.
The Latest Windows 10 Update 
Please note that support for HEIC files has been made a lot simple to install in Windows 10's recent new update. You can double-click a HEIC file to open the Photos tab if you want to confirm that you are already running the latest version of the Windows 10 update.
In the Photos app, click on the link Download codecs in Microsoft Store. The HEIF Image Extensions page will open the moment you will open the Store app.
To download and install the free codecs on your PC click on the "Get" button. As with any other picture, you can now open HEIC files, they will open in the Photos app just double-click them.
Windows will display HEIC image thumbnails in File Explorer, too.
Procedure To Open HEIC Files in Windows 10
We recommend you just download and install CopyTrans HEIC for Windows instead of messing with conversion tools. This platform provides full support to Windows for the HEIC photos.
On Windows 10 or Windows Explorer on Windows 7. You will see thumbnails for HEIC files in File Explorer, and in the standard Windows Photo Viewer, you will be able to open it.
You should be able to integrate HEIC files directly into Microsoft Office programs with this tool installed too.
Way to Convert HEIC Files to JPEG
We strongly advise against uploading any private photos or documents and videos to conversion tools online, however, the website below worked perfectly well for us.
But if you want to convert the images this way then do it at your own risk. It is best to leave the photo in your PC if the photo contains sensitive content.
On the other hand, there is no particular worry about posting it to an online site if the photo is not of value to someone who snoops. Having said that to heictojpg.com and upload up to 50 pictures at a time if you simply want to make a quick conversion.
From your PC to the web page you can easily drag and drop one or more HEIC files.
Important Note
In this post, we have shared with you to ways of how you can view and convert the HEIC format images on Windows 10. To view HEIC files you will need to install the third-party software mentioned above.
But afterward, it doesn't feel like you are using a third-party app. Just double-click the.HEIC file to open it as you do to open any other image format.
It will make you think like these images were always supported by Windows. If after installing this software you don't see the thumbnails, you may need to sign in again or reboot your PC at the very least.
The best thing about the tool mentioned above is that it also allows you to right-click a. HEIC file to convert it to a JPEG file and pick Convert to JPEG.
If you click that link then in the same tab you will immediately have a. JPEG version of the image stored. Do check out GetPCApps.com to find out tons of useful software like this one for Windows PC.