ZoneAlarm Free Firewall Offline Installer Overview
Firewall is a special set of rules, which decides which packet of data should be allowed to enter or leave network. Windows comes with built-in firewall. But there are various security reasons to download a free firewall, like the attacker doesn't normally target them and they can serve when Windows Firewall fails. Today, we will talk about ZoneAlarm Free Firewall for Windows.
ZoneAlarm Free Firewall is a suitable firewall for your computer which completes all your basic security setup. It guards your personal data, controls program access to the internet, blocks unwanted traffic and makes you invisible to prying eyes of hackers. ZoneAlarm Free firewall is one of the best rated firewalls. It probably is the most popular third party firewall for Windows.
ZoneAlarm Free Firewall Offline Installer Setup Features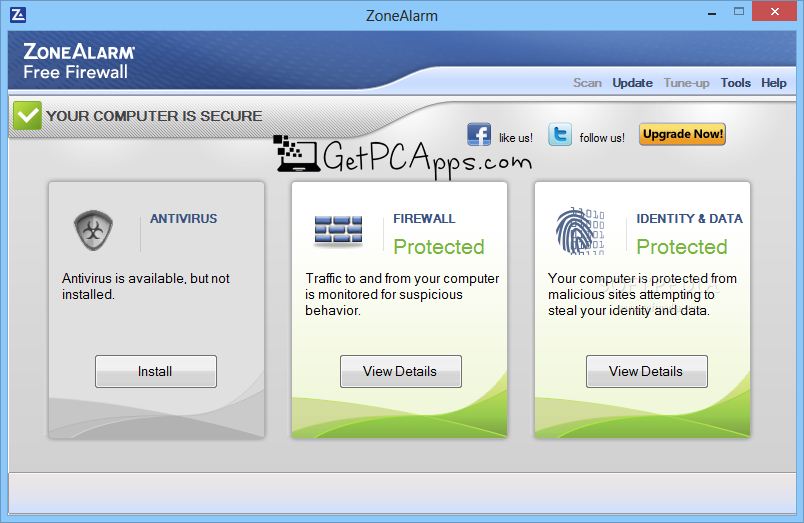 1. LIGHT WEIGHT & FREE ZoneAlarm Free firewall manages, inspects and monitors all incoming and outgoing traffic of your system. It shields you from hackers, malware and kind of online threats that put your privacy at risk and make your system vulnerable.
2. PERSONAL FIREWALL It monitors programs for suspicious behaviors and meanwhile identifies and halts internet attacks. ZoneAlarm Free firewall firewall protects you from malicious programs. It makes you go invisible for hackers by using Full Stealth Mode.
3. IDENTITY PROTECTION SERVICE ZoneAlarm Free firewall ZoneAlarm Free firewall in thwarting identity theft by keeping your personal data safe from hackers.They serve you with daily credit monitoring. Moreover, they arrange victim recovery assistance (US only).
4. ONLINE BACKUP ZoneAlarm Free firewall can restore your data and provide automated backups at your convenience. In case of theft,accidental deletion or disk failure, your files are protected because of these automatic backups.
5. ADDITIONAL LAYERS ZoneAlarm Firewall comes with multiple layers of advanced protection. They provide you exceptional and incomparable security.
6. PUBLIC NETWORK PROTECTION There is nothing to worry about, if you connect to an insecure network. The wireless PC protection of ZoneAlarm Free firewall will protect you from hackers and online threats.
7. WIRELESS NETWORK PROTECTION If you want to assure yourself that you have the highest firewall protection setting, do not forget to make it sure that you're protected with ZoneAlarm Free firewall's automatic wireless network security.
8. REAL-TIME SECURITY UPDATES ZoneAlarm Free firewall's real-time DefenseNet security updates give the most quick response to online threats. Hence you are always protected.
9. INSTALLED PROGRAMS It monitors and customizes the access of the existing or newly installed programs that attempt to access the Internet or network.
10. SUPPORT It basically supports all versions of Windows. You can use it on any Windows based computers.
11. NO PROBLEM WITH ANTI-VIRUS ZoneAlarm Free firewall will work seamlessly with any other anti virus or security software installed in your computer. It does not even compromise the quality of any other additional firewalls you have installed.
12. NO INTERRUPTION ZoneAlarm Free firewall operates in background and only disturbs when there is something very important. You will be notified when there is any suspicious behavior. ZoneAlarm free firewall will give you the opportunity to deny shady programs from running/downloading and connecting to the web. Sometimes, it might bug you when ZoneAlarm free firewall will warn about good programs.
13. PHISHING According to surveys, phishing protection services of ZoneAlarm free firewall has significantly improved in last year.
14. GAME MODE ZoneAlarm Free firewall is suitable for safe online gaming. Sometimes, its pop-up notifications can interrupt gaming. If you dont want them, you can enable special feature called game mode.
ZoneAlarm Free Firewall Offline Installer Technical Setup Details
SOFTWARE FULL NAME: ZoneAlarm Free Firewall for Windows PC
SETUP FILE NAME: zafwSetupWeb_153_064_17729.exe
FULL SETUP SIZE: 5 MB
SETUP TYPE: Offline Installer/ Full Standalone Setup
COMPATIBILITY ARCHITECTURE: 32 Bit (x86) / 64 Bit (x64)
DEVELOPERS: ZoneAlarm Inc.
System Requirements For ZoneAlarm Free Firewall Offline Installer Setup
OPERATING SYSTEM: WINDOWS 7 | 8 | 10 | XP | VISTA
MEMORY (RAM): 1.0 GB RAM Needed
HARD DISK SPACE: 1.5 GB Hard Disk Space Needed
PROCESSOR: Intel Core 2 Duo 2.5 GHz or faster
Download ZoneAlarm Free Firewall Offline Installer Setup For Windows 7 | 8 | 10 | 11
Click on links given below to start downloading ZoneAlarm Free Firewall Offline Installer Setup. This is a full offline installer and standalone setup for ZoneAlarm Free Firewall for Windows PC.
Download ZoneAlarm Free Firewall Setup
This ZoneAlarm Free Firewall offline installer setup is compatible with both 32 bit and 64 bit Windows versions and will work with Windows XP / Vista / 7 / 8 / 8.1 / 10.