Pirated operating systems and software have been around for years. Nonetheless, biggest advantage they have is zero cost. Sadly people are unaware of threats imposed on your system by these pirated programs and specifically pirated operating systems.
Risks of Using Pirated Windows 10 Copy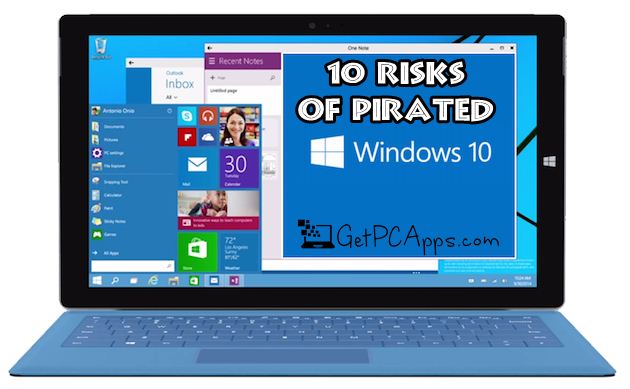 Billions of people, throughout the globe are using pirated windows. It is quite like an open secret. But to be honest, this dishonesty makes sense. Today Windows is every one's need and there are countries where it Windows license costs even more than person's annual salary. What other option does he have?
But look at other side of the picture. Think about people who pay so high to get genuine software. These people include thousands of IT professionals. There must be some reason behind. How can these people make such an absurd mistake?
Then there are laptop manufacturers who charge heavily for installing Genuine Windows 10 on your laptop. Why would they do it, when the door to free and pirated Windows 10 is always open.
If currently you are using pirated Windows 10, make sure you read this article. For your security and peace, we are going to inform you about 10 biggest risks pirated Windows 10 can expose your system to.
1. You Are Committing A Crime by using Pirated Windows 10
Yes, lets start from something very basic. Using pirated Windows 10 (or basically any windows) is punishable crime. Any pirated or cracked program is illegal.
2. You Will Miss Updates on Pirated Windows 10
Yes, you will never receive any updates. Pirated copies of Windows 10 are deprived of them. Missing critical leads to breaking big circle of how things work. This is the circle of consumer and producer which is indispensable for every kind of market. Consumer has to be in contact with producer to enhance his experience and help producer in launching better products.
3. Compromise On Performance
Piracy makes specific amendments in operating system, to enable it to run smoothly. But these editing cripple the system and makes a lot of other features unusable. You will miss out lot of these Genuine Windows 10 users are enjoying. In short, performance will terribly deteriorate.
4. Vulnerable To Hackers
Yes, pirated Windows 10 makes your system vulnerable to hackers. Let us tell you how?
Missing updates becomes more crucial because of security patches. Pirated windows will stop you from getting new security patches, and system would become soft target for hackers. Of course third party security programs can help, but they demand their own price. In all world, mostly attacked systems are using pirated Windows. Cyber crime rate is increasing with every passing day. Install genuine windows and do not loose your sensitive data to cyber criminals.
5. Missing A Lot Of Services
Are you die hard fan of Microsoft's services and apps? Well, i am afraid to have a bad news for you. These apps will never work if you have pirated operating system.
6. Using Poor Activator of Windows 10
Activator is a special tool used in Windows 10 to decrease the intensity of damages pirated Windows can cause. In fact, this definition is quite less comprehensive. We must accept that Activator is an application, which makes this whole pirated Windows 10 thing possible.
Do not worry, you will not be bored by long explanations of working of this software. But we will definitely want you to know the basic principle which is quite simple and intuitive.
When you are done with the installation of pirated operating system, you have to go to Activator. Press one button and you will have 100% functional and working operating system.
Now the working of pirated program is dependent on quality of Activator. If it is good enough it would let pirated Windows 10 work smoothly for years. Otherwise, you might be swimming in dangerous waters.
7. No Real-Time Assistance on Pirated Windows 10
When you use genuine copy, you can avail Microsoft's Real Time Assistance. But they are not obliged to work on non-genuine case. If you call them, they will instantly discover that you are using pirated copy and the call will be dropped, leaving you at your own to resolve the problem whatsoever.
8. System Break Without Notice
Your system can break without any notice when you are using pirated copy of Windows 10. It is activator from where Microsoft depends to confirm the legitimacy of your operating system, and if Activator's quality is not good, you are standing at the edge.
9. Malware Within The Copy of Pirated Windows 10
Not every body knows that according to FBI, pirated software is likely to contain malware. May be that is the reason why they are always sold at low rates. Actually, they are the cracked copies and main source code by Microsoft has been edited by someone. So yes, it may contain malicious code, which can steal your personal information like bank account numbers etc.
10. Continuous Supervision By Microsoft
Microsoft uses upgrading features for promotion of better behavior on web. Using non-genuine version of Windows 10 would be tantamount to permitting Microsoft for continuous scanning of your device. Hence Microsoft can not only disable your system at all but it may also disable any other pirated program you have installed in system.
Where to Download Windows 10 Official ISO Legally?
You must be thinking if using a pirated windows 10 copy is a crime, then where to obtain & download an official untouched windows 10 iso legally? You can easily direct download 100% legal windows 10 iso file from here. However you will need to buy a windows 10 product key online from Microsoft. You will get all the legal benefits of using a legal copy of windows 10 and will avoid all the risks involved with usage of pirated windows 10 operating system.