This list will help you find one for editing WebP images since WebP format isn't supported by all image editors yet. that is why in today's post we have listed 8 Best Free WebP Editor for Windows OS.
The software we have mentioned above, some of them require external plugins or webp codecs to be able to display and edit WebP files however other support WebP format natively.
8 Best WEB Editor and Viewer Software for Windows PC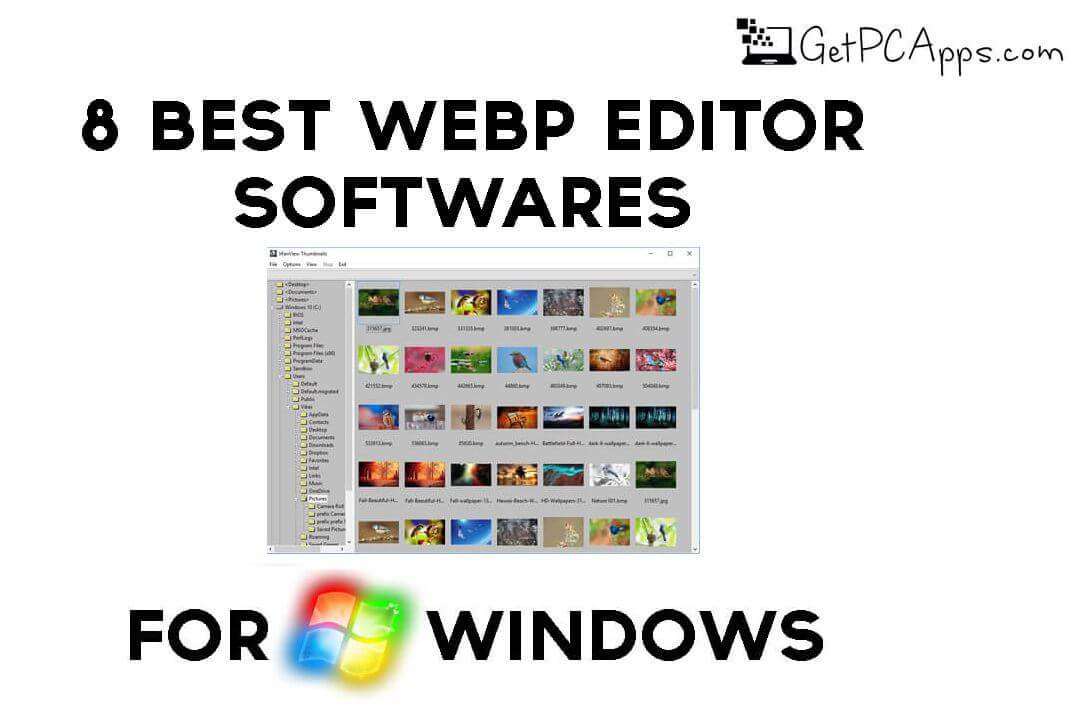 You get basic as well as advanced WebP editing features with all these WebP photo editor programs we have mentioned below. If you want you can add filters and effects, insert text, use brush, pencil, shape, and other drawing devices, modify color rates, distort the image, alter background color, etc.
Also, transformations could be added such as rotate, reverse, resize, and so on. Another amazing thing about these WebP Editors is that you can not only edit WebP image files but also other formats like PNG, JPG, BMP, TIFF, GIF, etc.
You should also visit GetPCApps.com for many other free and amazing software like the following.
1. IrfanView
IrfanView is a well known Windows Photo Editing Tool. Although it does not support WebP picture format automatically either. But you need to access an additional plugin form of file to edit WebP files.
You have to extract it and paste WebP DLL file to the mounted IrfanView folder > Plugin subfolder in case you access a ZIP folder. Otherwise, run it simply to associate it with the program in the case of.exe file.
Now you'll be able to access and edit pictures from WebP. Now for editing WebP images too as with every other famous image format, all the regular editing and annotation tools are available.
A Panoramic image of several WebP images can also be produced as well as image filters, apply transformations, annotate images, insert text, insert images with a watermark, change levels of color, etc.
You can configure path when doing so, sort inserted images by name, date, height, length, etc.
2. Picosmos
Basically, if you want a simple yet productive image editing software for Windows then Picosmos is one of the best choices you have.
This comprises a collection of image-processing resources. Images can be edited, photographs organized, screen captured, and much more by using these tools.
You must open the Editor module from its main interface to edit images from WebP. You can search and edit a WebP file, and annotate it over here.
You can do basic editing easily, such as applying tilt, rotate, resize canvas transformations, add shadow, add an outline, modify color levels, distort the image, alter background color and transparency, etc.
To import an image file or text as a layer this helps you by integrating all layers, exporting individual layers such as PNG, WebP, JPG, BMP, TGA, GIF or ICO, converting a layer, etc.
From the right panel of the GUI, you can use a range of filters as well.
3. GIMP
Not only for Windows but GIMP is an image editing application for various platforms such as Windows, Linux, Mac, and more. It is one of the most known and best and apps for photo editors.
Just like the similar software IrfanView we mentioned above, a supplementary plugin is also required to support the WebP image format. The correct plugin can be downloaded from here > GIMP WebP Plugin.
Just as you edit any file in other formats such as JPG, Jpeg, BMP, TIFF, etc you can use it to edit WebP images after this. You can transform a WebP image to edit it rotate, flip, scale it, crop it, tint the image, apply effects and filters such as blur, intensify, distort, merge, etc.
You will also be able to apply a layer mask, shrink range, posterize the image, change the tint rates, etc. To annotate pictures, you also get simple drawing resources.
4. Paint.Net
As you would have known, Paint.Net is a popular Windows image editing program. You need to download an extra WebP File Format Plugin because it does not support WebP image format natively.
Extract the ZIP archive after downloading the update, copy the DLL contents, and transfer them to the subfolder Paint. Net > FileTypes enabled. You get all the common editing tools for editing WebP images.
You get tools like range, shift, rotate, zoom, eraser, pencil, text, color picker, bucket paint, sheet, form, etc. To name a few. You can also rotate, switch, scale, add an image as a sheet, change the levels of color, etc.
Many effects can be added to WebP images such as blur, vibration, distortion, removal of red eyes, and so on. The edited WebP file can be stored in its original format, or any other compatible format such as JPG, PNG, GIF, BMP, TIFF, etc.
5. Chasys Draw IES
If you want a free image processor then Chasys Draw IES can fulfill all of your needs. You can consider this program as another alternative for editing the WebP images.
It offers versatile resources for recording, editing, and transforming images. You'll need to install Chasys Draw IES Artist to use it as a WebP editor.
Here, images can be accessed in several formats like WebP, such as JPG, PNG, GIF, BMP, etc. Using their URL you can also open a WebP image or other picture.
It provides both general and specialized editing tools for allowing you to make required changes to an image. On its GUI, a Toolbox panel is given for quick access to devices such as hand, brush, pencil, snip, clip, write, form, sharpen, smoother, eraser, magic wand, pen, and track, etc.
Such as the Toolbox panel it includes different layer tables, color palette, history of actions, preview, etc.
6. JPEGView
Now its time for the Windows handheld WebP reader named JPEGViews. It is essentially an image viewer, but for editing WebP images it does have some simple editing software.
Some resources can be displayed on its GUI when you open a WebP file. These tools allow you to rotate the image by user-defined angle, activate mode for enhancing the landscape shot, zoom in / out, etc.
You can access only a few more editing options from the context menu by right-clicking on the file, such as resize, rotate, turn, auto-correction, localized resolution adjustment, etc.
You'll be able to see several color correction options on the bottom pane in full-screen mode. You can use sliders from here to adjust contrast levels, brightness, saturation, color balance, contrast balance, etc.
Click on Save processed image option after editing to save changed image as WebP or any other formats that are allowed, including JPG, PNG, TIFF, and BMP.
7. RealWorld Paint
Another great WebP editing program for Windows OS is RealWorld Paint. You can not only edit but even can annotate WebP images using this program.
Basic editing tools including brush and color palette can be accessed from the right table. This also offers the required editing tools, as well as other listed programs.
You can change the levels of paint, install preferred filters, modify the size of the canvas, install/remove the border, etc.
You can also add watermark text or image, apply the transformation, insert an image BMP, JPG, GIF, WebP, PNG, etc.
The same goes for the layer like you can import masks, build animation, and much more. It supports widely used formats such as GIF, BMP, JPG, PNG, etc. to import and export images, including WebP.
8. XnConvert
XnConvert is a Windows Image Conversion program. It also supports WebP format, alongside famous image formats such as JPG, PNG, GIF, BMP, TIFF, etc. You can even edit them before converting images into it.
Add WebP photos to the Input list, or a folder of them. To edit WebP photos switch to the Activities page. While watching preview in real-time here, you can independently edit WebP pictures.
You can crop, scale, rotate, add text, add a mask, remove color, clear preferred area of metadata, adjust the depth of color, set DPI, etc. This also helps you to change the balance of colors, add filters, add noise, arrange histograms, and edit more images.
You can zoom in and out the picture in the Preview segment when doing so. Then, respectively, search the original then modified image in the Before- and After sections. XnConvert is really productive software for your work.
Here you have our 8 Best WebP Editor Software for Windows 7, 8, 10, 11 Free to Download list. Now by using the WebP viewers mentioned above, you can not only view the Webp file but also you can edit them conveniently as you want.
WebP is an image format developed by Google to reduce the size of an image. But it can be a real headache when you don't know how to open it since many images on the internet are in this format.
But worry no more with the WebP editors mentioned above you can also convert any WebP image into whichever format you want. All of the above-mentioned programs are great and productive but on top of everything, they are free to use.
You can download and use any of them whichever suits your needs and requirements best. You should also bookmark and keep visiting GetPCApps.com to find out many free to use programs and software for Windows.